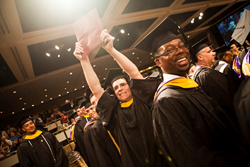 Excelsior College graduates are typically adult learners, average age of 37, who have pursued a higher education while balancing competing family and work demands.
(PRWEB) July 06, 2015
Nearly 400 of a graduating class of 4,826 will assemble in downtown Albany, New York on July 10 to celebrate 2015 Excelsior College Commencement (bit.ly/2015excelsiorgraduation). The annual ceremony, to be held at the Empire State Plaza, will feature a keynote address by the CEO of the National League for Nursing, Dr. Beverly Malone, PhD, RN, FAAN (bit.ly/2015excelsiorspeaker).
Excelsior College graduates are typically adult learners, average age of 37, who have pursued a higher education while balancing competing family and work demands. This year's graduates come from all 50 states, the District of Columbia, and the U.S. territories. More than 19 countries are also represented. Thirty-four percent are members of the U.S. military and 33 percent self-identify as members of minority groups. Visit Excelsior Life for a complete breakdown of the 2015 graduating class (bit.ly/2015excelsiorgradclass).
Indulata Jayapal, the oldest graduate at 73 years old, lives in Albany, New York. She earned a Master of Science (MS) in nursing. Two graduates expected to be in attendance will travel from Sri Lanka, a third from Japan, nearly 10,000 miles away. For each of this year's graduates, the ceremony symbolizes the end of one journey and the beginning of a new one.
A few notable graduates of this year's class, include:

Jenn Buyce, Bachelor of Science (BS) in Health Sciences. The mother of three returned to school in 2011, nearly 20 years after putting off higher education to raise a son. She credits the memory of her mother as providing the motivation to overcome challenges along the way.
Jason Duke, BS in Business. The veteran and recipient of the Jean M. Smith Award has already enrolled in the Excelsior MBA program to further his education.
Lisa Frankoski, MS in nursing. Frankoski is sharing her passion for nursing as an online faculty instructor.
Krystal Loader, BS in Criminal Justice. Loader chose to pursue a degree from Excelsior's School of Public Service to build upon her experience in the U.S. Army Reserves as a signals analyst.
Mike Wahl, Bachelor of Arts in Liberal Arts. Excelsior's flexibility afforded Wahl the opportunity to work full-time and raise a family. He found inspiration in his father, a two-time Excelsior graduate.
Visit Excelsior Life (http://www.excelsior.edu/excelsiorlife) to learn about the personal journeys of each of these graduates.
In total, over the past year, 1,730 degrees were conferred at the associate level, 2,746 at the bachelor's level and 399 at the master's level. Thirty-seven students earned more than one degree during the past academic year. Twenty four individuals earned certificates.
Excelsior will publicly broadcast the Commencement live online (bit.ly/2015excelsiorlive) to allow graduates and family members unable to attend an opportunity to participate.
If you are a member of the media and would like to speak with either Dr. Malone or a graduate, email Mike Lesczinski, public relations manager, Excelsior College.
Follow #ExcelsiorGrad2015 for all Commencement-related updates and activities.
###
Excelsior College http://www.excelsior.edu is a regionally accredited, nonprofit distance learning institution that focuses on removing obstacles to the educational goals of adult learners. Founded in 1971 and located in Albany, NY, Excelsior is a proven leader in the assessment and validation of student knowledge. It offers more efficient and affordable access to degree completion through multiple avenues: its own online courses and college-level proficiency examinations, and the acceptance in transfer of credit from other colleges and universities as well as recognized corporate and military training programs. Excelsior College is accredited by the Middle States Commission on Higher Education.