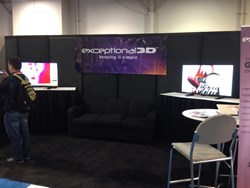 Las Vegas, NV (PRWEB) February 12, 2014
Exceptional 3D, the world's leading 3D digital signage solutions provider, today announced that their new auto-stereoscopic 3D product line is featured at Digital Signage Expo 2014. This year's show is being held today and tomorrow (February 12 & 13, 2014) at Sands Expo Center in Las Vegas, NV. The new Exceptional 3D digital signage product line aims to raise the glasses-free 3D bar while demonstrating the ability to play both 3D content, as well as legacy 2D content in sequence or at the same time through content management software. Crowds can engage an entirely future-proof 3D digital signage experience in their booth (#453).
"We're extremely pleased to be introducing our brand new glasses-free 3D digital signage display products at DSE 2014," said Dan Fischer, COO of Exceptional 3D. "We've been very focused on improving the entire solution," continued Mr. Fischer, "and we believe this next generation 3D display will be a leading step in the direction of where this technology is headed." Mr. Fischer finished in saying, "our latest display technology delivers a crisper, clearer and all-around more pleasing no-glasses 3D effect. We've gotten rid of the moiré, introduced a thin-bezel display and improved the overall quality of the entire experience."
Visitors and attendees to Digital Signage Expo 2014 can meet Exceptional 3D, check out the new product line and obtain more information from the industry-leading 3D digital signage solutions provider at booth #453 in Hall C at Sands Expo Center.
###
ABOUT EXCEPTIONAL 3D
Headquartered in New York, Exceptional 3D (http://www.exceptional3d.com) designs, produces and delivers a patented, leading-edge 3D auto-stereoscopic (no glasses needed) visual display technology. The company specializes in providing high quality auto-stereoscopic 3D displays, software and 3D content to resellers, system integrators, trendsetters and network operators for widespread adaptation at cost effective prices. Exceptional 3D hardware and software solutions are a 'future-proof' technology that enables flat-panel displays to show high-definition 3D content without the need for any eyewear or 3D glasses, while still being capable of supporting playback of standard 2D content. The company is 'keeping it simple' through first-in-class customer service and continual focus on delivering the best 3D experience for industries such as automotive, casino gaming, retail, cinemas, hospitality and a wide variety of additional vertical markets. More information about Exceptional 3D is available by visiting http://www.exceptional3d.com or following @exceptional3d on Twitter.