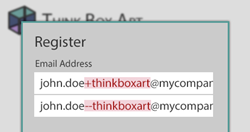 When we launched this software last year, we did not expect the sheer level of demand we received from the education sector.
Farnborough, UK (PRWEB) June 10, 2015
Exclaimer Limited, the global leader in managed email signature solutions, has announced that users worldwide can get its pioneering software tool, Exclaimer Address Tagging for Exchange, without making a payment. Available immediately, this unique offering has seen unprecedented demand from the education sector due to it being the first disposable email address solution for Microsoft Exchange™.
The ability to create disposable email addresses is currently a feature in Gmail, Yahoo Mail, iCloud and Outlook.com, but is not a part of Microsoft Exchange™. Exclaimer Address Tagging for Exchange is the only solution available that lets users create and manage temporary email addresses without involving an Exchange System Administrator.
"When we launched this software last year, we did not expect the sheer level of demand we received from the education sector," explains Andrew Millington, CEO at Exclaimer. "We have seen interest from educators across the globe who have been looking for new ways to protect their students against email spam. We continue to maintain that Exclaimer Address Tagging for Exchange adds another important feature that is missing from Microsoft Exchange™."
Email spam is a major source of frustration and can potentially cause serious damage to an organisation's infrastructure. Students in particular often do not consider the risks that can occur when giving out email addresses online. Exclaimer's pioneering technology works in tandem with Microsoft Exchange™ servers to eliminate spam threats such as marketing junk, phishing attempts and messages with malicious attachments.
Once the software is installed, all a user has to do is add a simple plus or double dash tag to their standard email address, making it unique to the person or site they have given it to e.g. john.doe+thinkboxit@mycompany.com. This way, if they start to receive unsolicited mail to this specific address, they can quickly identify who the culprit is. The user can then decide what course of action they wish to take with any unwanted mails.
"As an organization with a strong CSR policy, I feel it is important Exclaimer is able to give something back to the global community wherever possible," said Millington. "I am pleased that Exclaimer is able to offer this software solution without charge and help education institutions protect themselves against the constant threat of email spam."
To download your free version of Exclaimer Address Tagging for Exchange, please visit: http://www.exclaimer.com/address-tagging-for-exchange.
About Exclaimer
Since its incorporation in 2001, Exclaimer has been providing a robust portfolio of email utility software that works directly with Microsoft technology, specifically Outlook®, Office 365™ and Exchange™. Exclaimer's solutions include market-leading email signature software, next generation email archiving, an advanced email auto response system, business grade anti-spam, email image analysis technology and more.
Exclaimer has over 47 million users worldwide with a diverse customer base including such renowned international organisations as Lloyds TSB Bank PLC, Sony®, Mattel®, Morgan Stanley, the Council of the City of Sydney, NBC, the Government of Canada, the BBC and many more organisations of all sectors and sizes.
More information can be found at http://www.exclaimer.com.