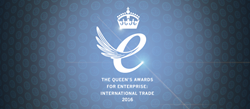 Winning the Queen's Award, especially as H.M. the Queen celebrates her 90th birthday, is a tremendous accolade for Exclaimer...
Farnborough, UK (PRWEB) April 21, 2016
Exclaimer Limited, the global leader in email signature management solutions, today announced that it has won a Queen's Award for Enterprise in International Trade. The Queen's Award for Enterprise is the UK's highest accolade for business success with winners selected by the Prime Minister's office and approved by H.M. the Queen. The awards are made annually and announced each year on 21 April, H.M. the Queen's birthday.
The UK-owned company was chosen for this award in International Trade due to its substantial year-on-year growth in overseas sales over the last 6 years. Established in 2001 by three entrepreneurs, it has now grown into a global business with more than 50 million users using its robust portfolio of email signature software and services for Microsoft Exchange, Office 365 and Outlook.
"Winning the Queen's Award, especially as H.M. the Queen celebrates her 90th birthday, is a tremendous accolade for Exclaimer and we could not be more honored to receive it," said Andrew Millington, Chief Executive Officer. "As a business, we pride ourselves on providing superior IT solutions to companies across the world and I am so proud that Exclaimer and its staff have been recognized by receiving this prestigious award."
As a Queen's Award winner, Exclaimer will receive an invitation to attend a special reception at Buckingham Palace with H.M. the Queen later in the year. It is also allowed to use the Queen's Award Emblem in advertising, marketing and on packaging for a period of five years as a symbol of its quality and success.
"This is a very exciting time for Exclaimer," Millington went on to say. "As a company, we are really going from strength to strength. We are experiencing strong business growth and our latest email signature management solution, Exclaimer Cloud - Signatures for Office 365, has seen a huge uptake globally. I see a very bright future ahead for Exclaimer and we intend to celebrate winning the Queen's Award in style with a full ceremony at our headquarters later this year."
About Exclaimer
Founded in 2001, Exclaimer is the recognized global market leader in on-premises and cloud-based email signature software and solutions for Office 365, Microsoft Exchange and Outlook. It has over 50 million users worldwide with some companies holding licenses for over 100,000 users. Its diverse customer base includes renowned international organizations such as Sony, Mattel, 10 Downing Street, NBC, the Government of Canada, the BBC and many more organizations of all sectors and sizes.
Exclaimer solutions are regularly recommended by Microsoft MVPs (Most Valuable Professionals) and have a strong reputation within the Microsoft community. The company has been the recipient of multiple awards within the IT sphere and has successfully achieved the ISO 27001:2013 Certification for its cloud-based Office 365 signature management service.