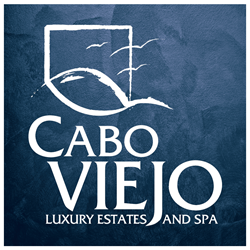 Cabo San Lucas, Mexico (PRWEB) October 01, 2014
On September 14, the strongest hurricane in Cabo's history hit the resort town in full force as a category 4 hurricane. Almost all of the businesses and homes in Cabo sustained damage, but luckily, the damage that was sustained by Cabo Viejo Luxury Estates and Spa was minimal. There was no structural damage to the resort, though there are some broken windows, broken pots, water damage to furniture and some terrace ceiling damage. Overall, the resort held up extremely well.
Since the hurricane hit, the people and businesses of Cabo pulled together in a recovery effort unlike the rest of the world has ever seen. Just about a week since the hurricane hit, Marina Boulevard, the main street of Cabo, has already been completely cleaned up and businesses are open and welcoming customers through their doors. The beaches have been cleaned up, and locals are enjoying the legendary surf and sand that Cabo is so well known for. There is, however, extensive damage to Cabo's electrical infrastructure and cell phone coverage is spotty.
Cabo Viejo Luxury Estates and Spa is happy to share that all of its staff are safe and accounted for, but many have suffered major or complete damage to their homes. When the hurricane hit, there were five guests at the resort, but they have all since returned home and are safe with their families.
In the coming weeks, Cabo Viejo Luxury Estates and Spa will be raising money to assist in the recovery efforts of its employees as well as in the recovery efforts of the town of Cabo San Lucas. Cabo is a city that relies heavily upon its tourism industry, and is still set to have another great and prosperous high season of travel. Information about how and where to donate will be forthcoming.
The resort continues to repair the damage that was inflicted during Hurricane Odile, and is on track to re-open to members and the public by mid-October. The owners and staff at Cabo Viejo Luxury Estates and Spa sincerely appreciate all of the thoughts, prayers and well-wishes that have been sent their way and will release more updates via their social media accounts as more information becomes available.
For more information about Cabo Viejo Luxury Estates and Spa, please visit http://caboviejo.com. To view this release in Spanish, visit: http://www.prensaahora.com.mx/cabo-viejo-luxury-estates-spa-ofrece-una-actualizacion-del-huracan-odile/