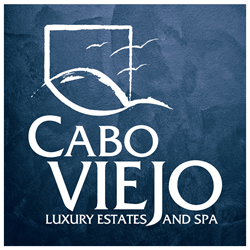 Cabo San Lucas, Mexico (PRWEB) November 17, 2014
November 14th marked 60 days since Hurricane Odile, the largest storm on record to hit the Baja Peninsula, struck and caused tremendous challenges for the resort destination. Cabo San Lucas enjoys a peak travel season from November through May. While the destination is popular year round, the winter months are when travelers escape the cold of the US and Canada and flock to Los Cabos' sunny shores.
Cabo Viejo Luxury Estates & Spa would like to provide owners with an update on the property and the town to reassure visitors coming to Los Cabos soon. The property promptly reopened and improvements that were pre-scheduled began in September. The minor damage that was sustained was only to 2 condominiums, which happened to be under construction being transformed into the new sales center anyways. The restaurants, Spa, pool areas all reopened after cleaning and were only lacking the most important thing: visitors.
Cabo Viejo Luxury Estates and Spa would also like visitors to know that not only is the resort in immaculate condition, but the town is operating normally and is as beautiful as ever. The airport is operating normally, and flights are increasing as the race to return to regularity with daily non-stop flights from all over the US, Canada and Mexico continues. Visitors arriving in Cabo would really need to struggle to finds traces of the storm damage as the community has come together to fix everything up and return Cabo to normal. All activities enjoyed by visitors are on track and being appreciated. Fishing is excellent and golf courses are filling up due to the wonderful fall/winter weather. Cabo is again the place to be.
With all the positive news and improvements to Los Cabos due to the tremendous work by the community, the high season is forecast to be very strong. Cabo Viejo Luxury Estates & Spa projects a very busy and successful high season, and looks forward to welcoming visitors to Los Cabos soon.
For more information about Cabo Viejo Luxury Estates and Spa, please visit http://caboviejo.com.