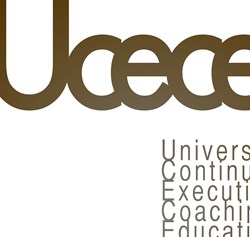 At The New School (University) I was lucky to be introduced to the notion that education is really the beginning of questioning the norm. I'm partnering with our members to create courses that challenge 'what is' ...
(PRWEB) August 14, 2013
Building upon its reputation as a results-driven international standard-bearer for the master-level executive coaching industry, the Association of Corporate Executive Coaches (ACEC) formally announced the establishment of the University of Continuing Executive Coaching Education (UCECE) http://www.ucece.org .
Spearheaded by ACEC's visionary founder, CB Bowman the "professional university"© is designed for senior executive coaches seeking advanced courses to maintain credentialing requirements for certifications; for those coaches seeking new methodologies regarding the challenges facing their clients; and for those coaches seeking certifications for new assessment instruments.
The UCECE will offer education for executive coaches with a radical twist: ACEC is forming the institution using the collective experience and expertise of its membership. Members who are proven leaders in the industry and who have undergone a rigorous vetting process for entry into the ACEC in which they must meet high-level standards including: A minimum of 10 years as a corporate executive coach coupled with 10 years as a business executive, certification and experience in globally accepted coaching assessments, evidence of having presented at a conference, published works, recommendations from clients, and more.
"Over the last several years, the Association of Corporate Executive Coaches and its amazingly talented members have led the way to frame the standards for our industry in order to have a positive impact on business results," Bowman said. "Now we are furthering that mission by using the collective knowledge of an elite group of coaches to become the premier provider of continuing education for executive coaches worldwide."
The inaugural course, "Effectively Coaching Executive Bullies at the Top of the Organization," will be launched in October 2013. Designed by Jordan Goldrich, Chief Operations Officer at CUSTOMatrix, Inc., and ACEC Master Corporate Executive Coach, this seven-part program focuses on the topic of coaching C-suite bullies and addresses the unrealized legal ramifications for the executive coach. The program has been approved for global accreditation by the International Coach Federation and provides participants with 14 continuing coaching education (CCE) credits. It has also been approved for 14 continuing education credits for those holding a Master Corporate Executive Coaching certification (MCEC).
"We feel very fortunate to receive ICF's blessing as we work towards improving the standards at the top of our industry", said Bowman of the ICF accreditation.
UCECE courses in development will focus on current topics affecting the executive coaching industry, topics surrounding client concerns, and topics concerning the legal challenges of coaching. For executive coaches who are current ACEC members, the University will offer a 30 percent discount for most programs. ICF members will receive a 20 percent discount for most CCE classes.
CB Bowman, a graduate of The New School and their alternative approach to higher education, knows all too well what it means to be an academic out of the box thinker and trendsetter. "I was lucky to be introduced to the notion that education is really the beginning of questioning the norm. I'm partnering with our members to create courses that challenge 'what is' while still qualifying for ICF approval."
For more information on the University of Continuing Executive Coaching Education, visit http://www.ucece.org or contact mailto:cb(at)acec-website(dot)org.
About the ACEC
Founded in 2010 by CB Bowman, a certified master coach with more than 20 years of experience and expertise with Fortune 500 clients, the Association of Corporate Executive Coaches (ACEC) has a unique global position for master-level executive coaches: rigorous credentialing, mutual support, and lifelong learning to drive business results.
The ACEC prides itself on an impressive array of member metrics, including:

99% have a post-graduate degree and 10 years of executive coaching experience – a longevity statistic strongly correlated to the performance of corporate executive coaches;
90% are published authors in a variety of outlets including white papers, articles and books;
80% have coached a Fortune 1000 company and have over 10 years of coaching experience with C-Suite executives; and
98% have 10 years of experience inside a corporate environment as a business executive responsible for the bottom line.
For additional information, contact Jesse Broome at:
(646) 481-1445
jesse(at)prsmbiz(dot)com
PRsmBIZ is a New York/New Jersey based high-impact public relations solution for small business. "It's time to be noticed" represents their business value proposition.