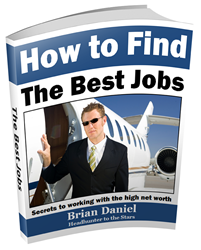 Without quality coaching, candidates are finding it increasingly difficult to make it through the brutal interview process
Los Angeles, Calif (PRWEB) February 19, 2014
Candidates looking to advance their careers, or reenter the job market, can now get executive assistant training from one of the world's top headhunters, Brian Daniel of The Celebrity Personal Assistant Network.
Finding quality executive assistant training has never been easy because career coaches who have actually been in top-tier jobs are few and far between – until now. Brian Daniel, founder and director of one of the world's top recruiting firms has added career coaching and resume-writing services to his roster.
Just some of the talking points for the session include but are not limited to: how to negotiate salary, role playing tips that will make you shine during the brutal interview process, overcoming the employers' objections, and advice on how to beat-out more-qualified applicants.
Today's job market is more competitive than ever. Candidates are learning that when jobs are posted online, employers can receive 1000 resumes or more, so outshining other job seekers becomes paramount when trying to score the best jobs in America.
"In bygone days, interviews were very casual and somewhat easy," says Brian Daniel. "Now candidates must jump through hoops and impress employers throughout an interview process that can take months. So, even with quality career coaching, candidates face an uphill battle from the start."
ABOUT THE COMPANY
Brian Daniel is a former executive assistant to Hollywood movie stars, billionaires and royal families. Since 2007, Daniel's recruiting firm has been placing executive assistants, estate managers and personal assistants with high-profile CEOs, heads of state and celebrities. Known for their secrecy, the team at this boutique employment agency has become a haven for the ultra-high net worth who value their privacy. For more information on hiring an executive assistant, go to http://www.FindCelebrityJobs.com.