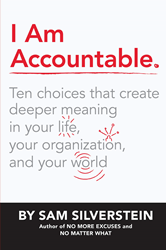 "What if ten simple choices enabled you to enhance your leadership skills, improve your organizational culture, and make a local, national, or even global impact?" asks Sam Silverstein.
MEMPHIS, Tenn. (PRWEB) December 16, 2019
Leadership expert and business consultant Sam Silverstein has released his 9th book, titled "I Am Accountable". In this book, Silverstein explains that in order to create a truly meaningful life, we must first accept that the problem is never other people. "The real problem," he maintains, "is what we believe about other people."
Silverstein's new book shows why everything we have been taught about accountability is wrong. Contrary to popular belief, accountability is not a way of doing. Accountability is a way of thinking. It is how we think about ourselves and others. And it is the highest form of leadership.
The secret to creating accountable relationships, and elevating the personal benchmark that Silverstein calls The Accountability Index™, lies in making ten critical choices that support an accountable mindset. I Am Accountable offers a comprehensive plan to help you establish and leverage that mindset, deepen commitments, create lasting meaning in your life and relationships, transform the culture within your organization, and foster lasting positive change in the world.
ABOUT SAM SILVERSTEIN
Sam Silverstein is Founder of The Accountability Movement™, an organization focused on building powerful communities filled with like-minded people who know and live their values and honor their commitments. His mission is to empower people to live accountable lives, transform the way they do business, and to thrive at extraordinary levels. By challenging leaders to shift priorities, cultivate an organizational culture based on accountability, and inspire both individuals and teams to take ownership in fresh and results-producing ways – he is helping companies dramatically increase productivity, profitability, and growth.
Sam believes that accountability is the highest form of leadership. As a former executive and owner, Sam's manufacturing and distribution companies sold over $100 million in products and services. He successfully sold one of his businesses to a Fortune 500 company. Today, Sam writes, speaks, and consults with organizations around the globe to think differently, work with renewed purpose, and achieve record-breaking results. As a keynote speaker, Sam challenges audiences to discover and reach their best selves. He helps leaders build accountability throughout their organization. Sam works with entrepreneurs, multi-national companies, corporations, and government agencies to drive increased engagement and productivity.
ABOUT EXECUTIVE SPEAKERS BUREAU
Executive Speakers Bureau is proud to exclusively represent Sam Silverstein for all keynote speaking engagements. We are a full-service speakers bureau, taking pride in our ability to provide world-class service as well as our ability to deliver today's foremost professional speakers and expert trainers to clients around the world. It is our commitment to provide our clients with unparalleled service, access to hundreds of motivational speakers worldwide and individualized personal attention. For more information, visit http://www.executivespeakers.com or call us at (901) 754-9404.