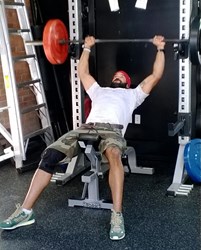 I could be making excuses as to why I can't or shouldn't exercise, but I'm not.
Rumford, RI (PRWEB) September 28, 2013
It's so common for people to let a physical injury or setback completely derail all efforts to exercise and continue leading a healthy lifestyle. Someone sprains an ankle, gets tendonitis in his elbow, or breaks a toe and suddenly physical activity must stop. Wrong. As personal trainers, we continue to try to communicate time and again that there is always something people can do to work around injuries. "You just don't understand," the clients say, "I can't do it."
212 Health and Performance Head Trainer, Colin Aina has recently made it his mission to be living proof that, yes it is possible and it is important. He recently tore his ACL and partially tore his MCL. He has to have surgery to repair these tears and is looking at a minimum of six months of recovery before he will be back to normal. Most people would let an injury like that be the perfect excuse to sit on the couch and do nothing. He says, "I could be making excuses as to why I can't or shouldn't exercise, but I'm not. Yes, I can't train as hard as I did prior to the injury and my exercise selection is much smaller now, but anything that I can do around my injury is better than making an excuse and doing nothing at all."
Not only is it important for personal success and healthy living to stay active while dealing with an injury, but in many cases, it's crucial to one's ability to heal and recover quickly and with fewer residual issues. In Colin's case, and in many similar to his, doctors advise the patients to continue to exercise and get as strong as possible leading up to a surgery. The exact opposite of what many people do. Going into surgery with healthy and strong muscles will help the area to heal more quickly and decrease the effects of atrophy and other issues that can result from non-use.
Individuals with injuries should seek the guidance of a fitness professional when deciding to continue with a fitness program. A professional can provide guidance and recommend a program that will allow an individual to safely continue a fitness regimen and work with and around injuries. There is always something a person with injuries CAN do. The potential is there to keep moving- we just have to be willing to find the right way to do it.
About 212 Health and Performance:
212 Health and Performance is built on the premise that within each of us lies the ability to push beyond what we think possible. True progress lies between the familiar and the unfamiliar. When the temperature of water raises just one degree it is transformed from water to steam and its ability to power, transform and create change is generated. This is our philosophy. That going just a bit further, taking one more step, lasting one extra second will mean the difference between same and change. Everyone is here for a different reason, this is your journey, this is your change. 212 Health and Performance. Powered by You.