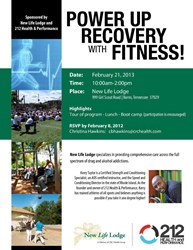 I do this because I firmly believe exercise can have a tremendous effect on a person's self-confidence and well-being." - Kerry Taylor
East Providence, RI (PRWEB) July 31, 2013
Former NFL player and owner of 212 Health and Performance, Kerry Taylor, has been chosen to head a new project designed to use fitness and exercise as an additional tool to help people recover from substance abuse. Taylor's program, Power Up Recovery, strategically includes physical movements that will both challenge and empower patients who are at various treatment facilities around the country.
This project was initiated by the professionals at CRC Health who run several recovery and rehab facilities nationwide. Taylor travels to various treatment facilities as both a motivational speaker and coach, to implement and inspire others about the program. So far, Taylor has been to facilities in Tennessee, Florida, Pennsylvania and North Carolina implementing Power Up Recovery and has incredible feedback and success both from doctors and patients. "It's amazing to watch an individual gain a sense of purpose and self confidence within an hour's time. Becoming the people they were meant to be. Brick by brick." -Robert Eagan, Power Up Recovery coach.
Power Up Recovery is designed as a four week program that includes a progressive workout regimen of three days per week with a certified and trained Power Up Recovery coach. Each exercise and each progression is specifically designed to challenge the patient mentally and physically and help build confidence as each progression is reached. Not only does this program work on a mental and physical level, but science has proven that the affects of exercise on the dopamine (the stuff that your brain produces that makes you feel good) levels echoes those of certain chemical substances. Although the program is still in its infant stages, the success of the program has proven it to be a very valuable addition to substance abuse treatment success.
About 212 Health and Performance:
212 Health and Performance is built on the premise that within each of us lies the ability to push beyond what we think possible. True progress lies between the familiar and the unfamiliar. When the temperature of water raises just one degree it is transformed from water to steam and its ability to power, transform and create change is generated. This is our philosophy. That going just a bit further, taking one more step, lasting one extra second will mean the difference between same and change. Everyone is here for a different reason, this is your journey, this is your change. 212 Health and Performance. Powered by You.