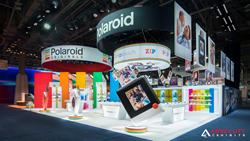 TUSTIN, Calif. (PRWEB) March 21, 2018
Absolute Exhibits, an exhibit house that specializes in custom and all-inclusive rental exhibits, has announced that it will once again be offering its annual Summer Savings Promotion on trade show booth rentals for new clients.
Clients can receive up to 50% off exhibit rental hardware in all standard sizes and finishes for trade shows occurring between June 1, 2018 and August 31, 2018 throughout the United States and Canada.
Exhibit rental hardware includes walls, counters, furniture, lighting, AV, 28-ounce carpet and padding with visqueen. The promotion is valid for new clients only, subject to availability and cannot be combined with any other offers or discounts.
With the trade show industry historically slowing down during the summer months, Absolute Exhibits is committed to keeping its employees, exhibitors and the trade show business going during this time through promotions and discounts.
Absolute Exhibits will be assisting clients at the following upcoming shows:

ASCO Annual Meeting - Chicago, IL | June 2-4, 2018
IASA - Nashville, TN | June 3-6, 2018
Sapphire Now - Orlando, FL | June 5-7, 2018
InfoComm - Las Vegas, NV | June 6-8, 2018
IDDBA - New Orleans, LA | June 10-12, 2018
United Fresh - San Diego, CA | June 20-22, 2018
Semicon West - San Francisco, CA | July 10-12, 2018
Intersolar North America - San Francisco, CA | July 10-12, 2018
IFT Food Expo - Chicago, IL | July 15-18, 2018
Comic-Con - San Diego, CA | July 19-21, 2018
AACC Clinical Lab Expo - Chicago, IL | July 29 - August 2, 2018
Black Hat USA - Las Vegas, NV | August 4-9, 2018
IWF Atlanta – Atlanta, GA | August 22-25, 2018
VM World - Las Vegas, NV | August 26-30, 2018
For more information or to learn if an event not shown on the list qualifies for the Summer Savings Promotion, visit https://www.absoluteexhibits.com/ or call (888) 760-6555.
About Absolute Exhibits
Established in 2000, Absolute Exhibits is a family-owned, single-source exhibit house that specializes in the design and fabrication of custom exhibits at over 300 domestic and international trade shows, corporate showrooms and museums. Absolute Exhibits is headquartered in Tustin, California, with additional facilities in Las Vegas, Orlando, Chicago, Detroit, Würzburg (Germany) and Bucharest (Romania).
For more information, visit Absolute Exhibits.