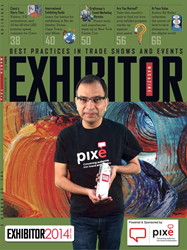 "Lots of fun activities in The Square, including a photo booth sponsored by @PixeSocial. #EXHIBITOR2014" - @EXHIBITOR
Columbia, MD (PRWEB) March 20, 2014
Pixe LLC announces that its innovative mobile and social marketing solution, Pixe Social, has been selected for the prestigious Buyers Choice Award at EXHIBITOR 2014.
Integrated with Facebook and Twitter in real-time, Pixe Social Photo Booth technology enables brands to engage their current audiences to organically mobilize their online fan following.
A panel of judges, including Certified Trade Show Marketer (CTSM) graduates, selected the Buyer's Choice Award winners from the brands launched in the New Product Showcase at EXHIBITOR 2014.
The Buyers Choice Award winners are determined based on the following four judging criteria:

Does the product/service have an innovative design?
Does the product/service have broad-based applications ?
Does the product/service address an industry need or issue?
Does the product/service enhance the job of the exhibit marketing professional?
Along with being a prominent sponsor and exhibitor at the event, Pixe Social powered the official photo booth at EXHIBITOR 2014.
Pixe's social marketing solution was leveraged by a number of exhibitors at EXHIBITOR 2014, including CHOPS & Assoc. Live Animation, Exhibit City News and GES Global, to provide attendees with an engaging experience and showcase their brands to prospective customers.
In an exciting contest, Pixe will be giving away an iPad mini to the photo booth user who receives the most likes for their photo on Facebook by midnight of March 30, 2014.
About Pixe
Pixe LLC is a Maryland-based start-up providing turnkey social promotional solutions that is on a mission to take the challenge out of social media marketing by converting audiences into brand ambassadors. Launched in April 2013, Pixe's flagship social marketing solution - Pixe Social - to help boost the social presence of a number of leading brands and events including New York Comic Con, MCM London Comic Con and Event Marketer Magazine.
About EXHIBITOR2014
EXHIBITOR2014 provides face-to-face training for trade show exhibitors and event marketers. The event features 160+ sessions in seven learning tracks, 135 expert faculty, 300 supplier exhibits, 3,000 enrollees in the professional certification program and nearly 6,000 attendees from companies of all sizes and types.