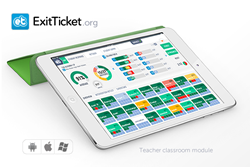 Within six months of making the app available to the public, ExitTicket has reached over 2500 schools in 92 countries.
Seattle, WA (PRWEB) March 02, 2014
EdStart.com announced today that it has successfully acquired ExitTicket (http://www.ExitTicket.org), a rapidly growing student response system, from Leadership Public Schools (LPS), a charter network of four urban high schools in the San Francisco Bay area.
ExitTicket was designed directly in the classroom by Dr. Louise Waters and LPS teachers to address a critical need to accelerate student performance – particularly for students entering significantly below grade level. Dr. Waters is internationally recognized for her work in academic systems reform and innovative approaches to blended learning and accelerating student achievement. After two years of intense testing across multiple subject areas, LPS has seen substantial student academic gains of two to three grade levels within a single year through the use of ExitTicket-empowered instruction.
ExitTicket was made publicly available to all teachers for free in August 2013, and within six months more than 2,500 schools in 92 countries had started using the application.
Dr. Louise Waters, Superintendent and CEO of LPS, said, "Because ExitTicket has been designed by teachers directly in the classroom, it feels very natural to both students and teachers. It's an innovative blend of real-time technologies and instructional strategies that offer a very new and unique insight to standards aligned student assessment data. ExitTicket enables teachers to truly deliver differentiated and personalized learning strategies to every student at an individual level."
Dr. Scot Refsland, CEO of EdStart.com, said, "Originally, ExitTicket was designed to be an internal tool within LPS to solve the substantial skill gaps many urban kids face when entering high school. But it wasn't long before ExitTicket spread into other schools. They also experienced similar efficacy results by implementing ExitTicket into their classrooms. Since LPS had no way of supporting the sudden and growing demand for ExitTicket, EdStart.com was thrilled to help expand and support such an incredibly effective application."
The ExitTicket application will now be supported and maintained by EdStart.com, with continued research and innovation collaboration from LPS. ExitTicket version 4 was recently released and features a new, streamlined interface and AppCenter to offer more features and wider integration with other edtech applications. ExitTicket is also now available on the Apple AppStore, the Chrome Web Store and Google Play. Find out more at http://www.exitticket.org.
About EdStart.com
EdStart.com was founded in 2012 to innovate new educational applications using real-time technologies backed by solid instructional strategies for the Just-in-Time learning generation. More information at http://www.edstart.com.
About Leadership Public Schools
Leadership Public Schools ("LPS") is a not-for-profit organization founded in 2002 to prepare traditionally underserved students to succeed in college and become leaders in their communities while at the same time developing replicable practices that can improve urban education across the nation. More information at http://www.leadps.org.