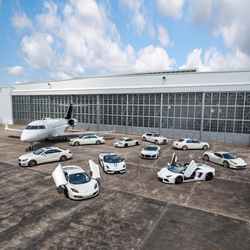 "Hundreds of business executives, world travelers and vacationers walk through our doors in search of the perfect luxury vehicle."
Miami, Florida (PRWEB) December 23, 2014
mph club® owns a diverse fleet of exotic and luxury automobiles for every lifestyle type. For business executives in search of a Ferrari California in Miami, or an all-new Lamborghini Huracán for rent, mph club® creates a luxury ambiance of beautiful cars and a consistent brand of curated white vehicles. Miami offers a melting pot of culture and a community of enthusiasts looking to broaden their automotive prowess with exotic and luxury vehicles.
"Hundreds of business executives, world travelers and vacationers walk through our doors in search of the perfect luxury vehicle." explained Liram Sustiel, Co-Founder of mph club® . "Our core values are enforced by our dedication to customer service, as well as our all-white fleet of new vehicles. We only choose the best for our fleet in which we inspect every vehicle element." Mr. Sustiel continued when asked what differentiates mph club® from the competition.
Recently, mph club introduced several new vehicles to the mix. This assorted group of exotic car rentals in South Florida includes the Rolls Royce Drophead in Miami, Ferrari 458 Spider and the Lamborghini Huracán. Each vehicle holds a distinct look and feel, built with the utmost precision and dedication to modern luxury and speed. The Rolls Royce Phantom Drophead, constructed from the finest materials on the planet, was inspired by the 1930's J-Class racing yachts. Coupled with coach doors, the Rolls Royce Drophead allows elegant entry and exit to and from the rear lounge seat.
While the Rolls Royce Drophead is geared more toward a relaxed experience, the Ferrari 458 Spider fits a more aggressive driving lifestyle. With more than 570 horsepower, the Ferrari 458 is a behemoth of raw power and elite style. mph club® provides a Ferrari 458 rental in Miami to individuals in search of a vehicle with a 4.5-liter direct-injection V8 that shifts through a seven-speed dual-clutch automated-manual transmission. The Ferrari's handling controls like a dream, taking corners with precision.
mph club® recently added these new toys to the fleet. However, the exotic car rental company in Miami maintains a diverse group of current vehicles including: the Audi R8 Spyder, an assortment of Mercedes-Benz AMG vehicles, Lamborghini Aventador and more than a dozen additional super cars. mph club® is located at 4200 North West 145th Street in Opa-locka, Florida. For daily, weekly and monthly rental rates, contact mph club® via email at info(at)mphclub(dot)com or inquire online at http://www.mphclub.com.