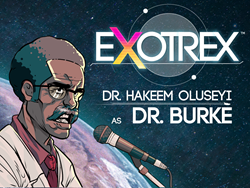 "The diversity in ExoTrex™ is especially important because it's empowering to students to see and hear someone who looks like them and sounds like them doing science." Says Dr. Oluseyi
Bethesda, MD (PRWEB) September 27, 2016
Dig-It! Games, a mission based, independent developer of award-winning interactive learning tools, has released episode one of its flagship game, ExoTrex™. Available online, the first in the three-part series was designed by former middle school teacher and Dig-IT! Games' CEO, Suzi Wilczynski to take kids on a scientific space adventure that is both educational and motivational.
ExoTrex™ was designed for students in 8th to 10th grades and uses fun puzzles and problem solving exercises to build critical thinking skills that promote college and career readiness across stem content areas like science and math. In an effort to reach underserved students, who are severely underrepresented in STEM careers, Dig-IT! Games worked hard to include features that make complex topics in the game accessible to all students.
Students who play ExoTrex™ will meet Dr. Gerald Burke, an African American character who is based on the grandfather of Dig-it Games Artist Mikel Wellington.
"Dr. Burke's presence in the game elevates the product from a game about science to a game about successfully overcoming barriers and challenges," Says Wilczynski. "His story is inspirational and it's our hope that including him in this game will serve to motivate students of color to enter STEM fields."
To increase the reach and impact of ExoTrex™ Dig-IT! Games partnered with renowned Astrophysicist, Dr. Hakeem Oluseyi who, in addition to being a star on the popular TV show, "Outrageous Acts of Science," is also the Chief Science Officer for both Discovery Communications and the Science Channel. Dr. Oluseyi is the voice of Dr. Burke and was instrumental in ensuring the accuracy of the in-game content.
"The decision to partner with Dig-IT! Games was easy because we are both on a mission to use innovative ways to teach and to reach underserved kids," says Dr. Oluseyi, "The diversity in ExoTrex™ is especially important because it's empowering for students to see and hear someone who looks like them and sounds like them doing science. Today you have to capture kids' attention in seconds. The visuals in ExoTrex™ do that."
"It is our hope," says Wilczynski, "that together, Dr. Oluseyi and Dr. Burke will help interest students in science careers and will inspire kids everywhere to reach for the stars." 
The forthcoming episodes of ExoTrex™ will continue the adventure by taking players on a journey through our solar system and beyond. In Episode 2, players will explore nearby planets and moons as they prepare to venture into deep space. In Episode 3, Dr. Burke will guide players as they visit planets, moons and more. Players will take samples and evaluate their suitability to support human life and learn to use their best scientific thinking to save humanity.
About Dig-It! Games: Dig-It! Games is an award-winning, mission-based game development studio dedicated to creating games that encourage kids to explore the world around them. Founded by professional archaeologist and former middle-school teacher, Suzi Wilczynski, Dig-It! Games develops educational tools that promote critical thinking, independent learning and cultural understanding. All games incorporate age appropriate content in math, science, social studies and language arts into fun interactive and engaging learning experiences.  o learn more about Dig-It! Games, please visit http://dig-itgames.com. Social Channels: Twitter: @digitgames, Facebook: http://www.facebook.com/DigitGames