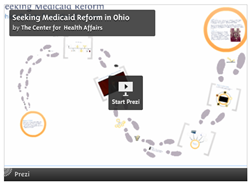 Cleveland, Ohio (PRWEB) August 01, 2013
On Monday, July 29, 2013, The Center for Health Affairs released an online presentation to explain the process of expanding Medicaid in Ohio. This tool was created to clarify the complex legislative process the state has taken on the road to expanding Medicaid in Ohio and was intended to be used as a resource by member hospitals. Ideal for conversations with colleagues, board members and the public, the presentation provides a brief history of recent events in a simple format. Most importantly, this tool will provides the viewers with an understanding of where Ohio has been and where it is likely headed in the future.
With the implementation of the Affordable Care Act underway, states across the nation have had to decide whether or not to accept one-time federal money to expand their current Medicaid programs. Since the federal funding for Medicaid expansion in Ohio would begin in 2014, state lawmakers decided to debate the proposal during the biennium budget, which coincided with the timeline for expansion. This presentation documents the past several months of debate and explains the process of expanding Medicaid in Ohio in the future if lawmakers continue to discuss this issue.
For additional information regarding the presentation on Medicaid expansion in Ohio, contact Deanna Moore at 216.255.3614 or deanna.moore(at)chanet(dot)org or Tony Gutowski at 216.255.3610 or tony.gutowski(at)chanet(dot)org.