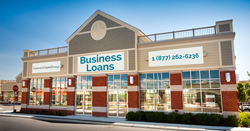 Our new credit facility coupled with our technology driven platform, enables us to more than double our customer base and lending capacity.
Sioux Falls, South Dakota (PRWEB) November 03, 2015
Expansion Capital Group (Expansion Capital), a provider of small business loans, announced today a new credit facility financing relationship with Northlight Financial (Northlight) and Bastion Management (Bastion). Under the agreement, vehicles controlled by Northlight and Bastion will provide a $25 million credit facility to support Expansion Capital's rapid lending growth.
Founded in 2013, Expansion Capital extends credit to businesses with limited financing options that are underserved by traditional financial institutions. "Our new credit facility with Northlight and Bastion, coupled with our technology driven platform, enables us to more than double our customer base and lending capacity. Expansion Capital is positioned perfectly to assist small businesses and business owners across the US accomplish their goals," said Expansion Capital Chief Operating Officer Jay Larson.
The founders of Expansion Capital have first-hand experience launching and creating businesses. This entrepreneurial background gives them great appreciation for the many challenges small business owners face, and the determination required to help a business succeed and grow. Expansion Capital's founders have a deep understanding of the working capital needs critical to a small business' success.
Since start up, Expansion Capital has provided over 5,137 small businesses with capital extending more than $63 million, focusing on loan sizes ranging from $10,000 to $500,000. Expansion Capital has developed a platform based on predictive modeling, data aggregation, and electronic payment technology, which enables it to service this target market cost-effectively. Traditional lenders generally focus on small business owners' personal credit history, whereas Expansion Capital focuses on the performance of each individual small business using a broad array of traditional and nontraditional data sources. Expansion Capital has also developed a proprietary end-to-end lending platform, which includes an online origination system and a proprietary credit scoring model.
MCD Enterprises, founded by Tim Mages, consulted with Expansion Capital on the completion of the credit facility with Northlight and Bastion.
About Expansion Capital
Expansion Capital provides business owners working capital financing using a 3–12 month term finance product which helps business owners expand and grow their businesses. Loan sizes range from $10,000 to $500,000 and are extended to a variety of industries, including but not limited to business services, trucking, healthcare, hospitality, construction, manufacturing, and retail.
Contact: Jay Larson
(605) 809-8299
http://www.expansioncapitalgroup.com
About Northlight
Formed in November 2002, Northlight is a corporate lender and asset-based investor that invests in loans, real estate loans and related assets. Targeted industries include gaming, real estate, specialty finance, healthcare, manufacturing, telecom and technology. Northlight is based in New York, NY.
Contact: Chris Jahrmarkt
(212) 247-0330
http://www.northlightfinancial.com
About Bastion
Bastion is a lender to various specialty finance businesses that traditionally service the non-bank market. Bastion will invest up to $25 million in a single transaction. Its headquarters are based in Stamford, CT.
Contact: Jay Braden
(203) 594-9264