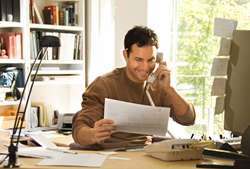 Employers have more applicants to choose from; jobseekers have a wider search parameter.
London, UK (PRWEB UK) 24 March 2014
As reported in a recent article published by online expat community ExpatForum, some British companies that operate internationally, are failing to provide an adequate level of support to many of the 320,000 British expat employees who now relocate to a new overseas location each year.
This significant underlying factor could be responsible for the changing work patterns currently being displayed by professional expats, whose growing collective interest in securing a mobile position has been monitored by experts working within the global employment industry for years.
The speed of mankind's technological progress is reflected in the escalating frequency of scientific developments now being made in this, our unprecedented "Information Age." But changes are also evident amidst today's professional landscape, where mobile careers are increasing in popularity.
In an effort to sidestep a host of costly issues such as cultural compatibility, healthcare and taxation, expat employers are now creating more remote vacancies. This provides employees with a job devoid of pitfalls that can affect their sense of wellbeing and impact their overall performance.
David Retikin, Director of Operations at Pryce Warner International Group commented on the reasons why there could soon be a boom in expat employment:
"Online positions advertised by British employers already attract a healthy amount of interest from prospective employees based all around the world. This effectively means that employers have a wider scope of applicants to choose from when finding a suitable worker, whilst jobseekers can take advantage of wider search parameters when looking to start or progress their career. Because location has become one less major factor to worry about, it's a win-win situation for all involved."
The banking industry and overall finance sector is currently generating more interest than all others. International businesses hoping to increase their customer base in a specific location know they can usually rely on the local knowledge and experience of a native referral agent to help deliver results.
British employers choosing to relocate their workers can face high levels of stress and expense. But because they save so much time and money by employing a remote overseas worker, expat employers can usually offer higher salaries and attract individuals dedicated to their career.
Career-minded expats considering a change in direction for their current positions can now search beyond their usual geographic borders. With virtually endless possibilities being presented to those hoping to enhance their future, the face of global employment is quickly becoming unrecognisable.