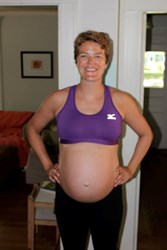 "A huge thanks...for an energy-filled, ache-free pregnancy," Suzanne Cadge.
Rumford, RI (PRWEB) August 30, 2013
There is a controversial issue surrounding pregnant women and exercise. Should they? Shouldn't they? Risks? Rewards? The women of 212 Health and Performance in Rumford, RI prove to themselves and other members that not only do they want to continue their exercise routines, but have found that continuing has actually helped them.
Suzanne Cadge has been a member of 212 for two years. She was a mom when she first joined 212, so when she became pregnant for the second time, she wasn't quite sure what to expect. She was fully engulfed in her workout regimen and she didn't want to give that up. So, she didn't. She continued to work out three+ times per week until four days before giving birth to her second daughter. "A huge thanks to Colin and the gang for an energy-filled, ache-free pregnancy," says Suzanne, two weeks before her due date.
Devi Ross is another woman who has exercised consistently throughout one, going on two pregnancies. She says, "The 212 staff helped me by adjusting a few exercises to accommodate my ever-expanding middle, but in general, I did the same exercises as everyone else. As a result, I had a fairly easy pregnancy with few aches or pains and felt strong and confident through my unmedicated labor and delivery." She is currently in the midst of her second and still continues to workout four days per week.
Devi and Suzanne are just two of many women who have exercised throughout the duration of their pregnancies. All of those women at 212 have endorsed how exercising consistently has helped them to be relatively pain free both before and during the birth of their children. Not only that, but they have all bounced back physically very quickly. Of course, every woman should check with her doctor, but in general, exercise has proven to be a great addition for the expectant moms of 212 Health and Performance.
About 212 Health and Performance:
212 Health and Performance is built on the premise that within each of us lies the ability to push beyond what we think possible. True progress lies between the familiar and the unfamiliar. When the temperature of water raises just one degree it is transformed from water to steam and its ability to power, transform and create change is generated. This is our philosophy. That going just a bit further, taking one more step, lasting one extra second will mean the difference between same and change. Everyone is here for a different reason, this is your journey, this is your change. 212 Health and Performance. Powered by You.