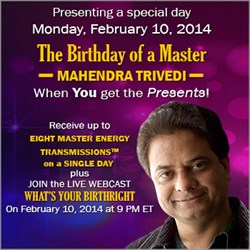 Nature has its own frequency. If you resonate with it, you can harness it effectively in life. - Mahendra Trivedi
Las Vegas, Nevada (PRWEB) February 06, 2014
On the occasion of his birthday, Mahendra Trivedi is going host a live webcast 'What's Your Birthright' on February 10, 2014, at 9PM ET. Eight Master Energy Transmissions™ will be administered throughout this day in the 24 hour period starting 12:01AM - 11:59PM.
The highlights of the day are:

Participants can receive four Master Energy Transmissions™ from both, Mahendra Trivedi and Trivedi Master™ Alice Branton.
People will experience The Trivedi Effect® in the comfort of their homes or offices as they'll receive multiple Master Energy Transmissions™ on one day and will accelerate the change and transformation in their lives eightfold.
All these eight Master Energy Transmissions™ are being offered at a combo price of $300, On eight Energy Transmissions, people can save $1100.
People can join Mahendra Trivedi at the special two-hour live webcast 'What's your Birthright' on February 10, 2014, at 9PM for only $50 extra where they can listen to his thought-provoking discourse and can interact with him along with thousands of people from across the world.
The Trivedi Effect® is a natural phenomenon that, when harnessed and transmitted by individuals, can transform living organisms and non-living materials so that they can function at a higher level and serve a greater purpose. Mahendra Trivedi possesses the unique ability to transmit the powerful transformational energy through the power of his thoughts. The Trivedi Effect® significantly improves the individual's ability to listen to his or her own inner guidance system.
The impacts of The Trivedi Effect® are not only surprising but also hugely beneficial to humans, plants and animal in all walks of their lives. It has reported to provide relief to people suffering from chronic pains, depressions, mental disorders, anxiety, low confidence, menstrual problems, emotional trauma, sexual dissatisfaction, tiredness, financial crisis and relationship problems.
Mahendra Trivedi has undertaken more than 4000 experiments on The Trivedi Effect® in order to authenticate it and eradicate the possibilities of the placebo effect. The impact of this phenomenon has been measured, validated and documented in major research institutes throughout the world, resulting in several publications in leading international peer-reviewed scientific journals.
In order to administer this amazing Energy Transmission to people from all over the world, Trivedi Master Wellness™ organizes various programs and events, where people can receive the energy online, as well as in-person, so that they can start experiencing an inner peace, better health, increased energy, greater happiness, greater mental clarity, improved relationships, increased financial success and a deeper spiritual connection in their lives.
The day, February 10, 2014, is a fabulous opportunity for people to receive the Energy Transmissions from Mahendra Trivedi and Trivedi Master™ Alice Branton for experiencing the profound benefits of The Trivedi Effect®. So, register now for the Master Energy Transmissions™ and the live webcast 'What's Your Birthright'. You can also invite those you love so that they too may experience a transformation in their lives.
To find out more about The Trivedi Effect® or to register for this amazing event, please visit: http://www.trivedieffect.com/birthday-celebration/.
About Trivedi Master Wellness™: Mahendra Trivedi has the unique ability to create The Trivedi Effect® and has the scientific evidence to prove it. This phenomenon of Energy Transmission has been tested in over 4,000 experiments conducted using stringent methodologies and the most advanced technologies available on this planet. Many results have been published in leading international, peer-reviewed, scientific journals. Each experiment shows significant transformation with consistent results. The resulting changes show that this energy has the remarkable ability to improve the functionality and potential of an individual. Trivedi Master Wellness™ established in 2011 is intended to provide the benefits of The Trivedi Effect® to optimize human potential throughout the world.
Websites: http://www.trivedimasterwellness.com/, http://www.trivedieffect.com, http://trivedifoundation.org/, http://trivediproducts.com/
Call us on: +1-877-493-4092
For inquiries please mail us at: cs(at)trivedieffect(dot)com