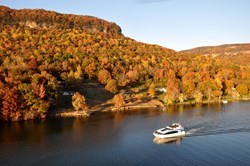 Chattanooga, Tennessee (PRWEB) August 29, 2013
Explore the countryside's brilliant changing colors by train, boat or bike; take in a variety of Oktoberfest celebrations, Adventure Sports Games, wine & food festivals and thrilling Halloween adventures.
Chattanooga was named Outside magazine's Best Town EVER, one of the Top 45 Places to Visit by the New York Times and one of the five "Next Great Escapes" by Travel+Leisure magazine. Come and see why Chattanooga has received these prestigious designations. Visit http://www.chattanoogafun.com/fall for more information.
FALL COLOR TOURS
Looking for some great ways to see the fall colors? Chattanooga offers options by train, boat and bicycle. And the roads are always wide open for some cruising via car or motorcycle.

BY BOAT – Take a cruise into the Tennessee River Gorge, and view nature's brilliant canvas of fall colors. Enjoy a 2-hour color or Civil War cruise aboard the Tennessee Aquarium's River Gorge Explorer (Sept. 7-Nov. 23) or a 3-hour Fall Leaf lunch cruise aboard the Southern Belle Riverboat (Oct. 11-Nov. 17).
BY TRAIN – Jump on board the Tennessee Valley Railroad for the Autumn Leaf Specials (Oct. 5-Nov. 2) that take you through the countryside or for the Halloween Eerie Express (Oct. 11-26), a spooky train ride featuring scary storytelling, an Eerie Fun House, Halloween treats and more.
BY BIKE: View the beautiful fall foliage on a ride along the 13-mile paved Riverwalk along the Tennessee River and through the Bluff View Art District or take to the hundreds of mountain trails on Lookout and Signal Mountains. Visitors can rent a bike 24/7 from the new, first in the South, Chattanooga Bike Share System with 30 locations and 300 bikes throughout Downtown.
FESTIVALS, EVENTS & ENTERTAINMENT
Enjoy a variety of fun during one of Chattanooga's top festivals and events, many surrounding the riverfront and one of the nations' top-rated aquariums. All the downtown activities are connected via a free, electric shuttle. Events in the Lookout Mountain and outlying areas are only 5-20 minutes from downtown Chattanooga. All fall events can be found online at http://www.chattanoogafun.com/events.
Downtown Area

Live entertainment: Track 29, one of the South's most popular entertainment venues, will be featuring some top names like Big Boi Shoes for Running 2013 World Tour (Sept. 28); Dwight Yoakam (Oct. 3); Neutral Milk Hotel (Oct. 19); at the Tivoli Theatre, enjoy ZZ Top (Sept. 13); Grammy Award winner Anthony Hamilton LIVE (Sept. 15) and Barenaked Ladies (Nov.1).
Chattanooga Market/Now-Dec. 21, Sundays, 1am-4pm: Chattanooga Market is a weekly, open-air market offering fresh bread from local bakers, just picked produce (tax free), live music, artists/artisans selling things they've made in the Chattanooga area.
150th Anniversary Reenactment of the Battle at Chickamauga with 10,000 Reenactors/Sept. 21 & 22, 9am-6pm: Hear the sound of thunder as over 10,000 Union and Confederate reenactors with artillery cannons and the Cavalry, confront each other just like they did in September 1863. There are 2 battles on Saturday (10am & 4pm) and 1 battle on Sunday (2pm). Activities include living history demonstrations, sutlers, tent encampments, a military hospital and period and modern food vendors.
Tennessee Whiskey Festival/Sept. 21, 6-11pm: The very first and much anticipated TN Whiskey Festival will include whiskey tastings from several TN distillers, great food and live music. Participants receive a free Festival Tasting Glass. NEW THIS YEAR!
Wine Over Water/Sept 28, 5-8 pm: Be treated to wine, hors d'oeuvres, & live music across the historic Walnut Street Bridge overlooking the Tennessee River. Proceeds benefit the preservation of historical properties in Chattanooga.
Tennessee Aquarium's "ODDtober"/Oct., daily 10am-6pm: Discover fun facts about the kooky behaviors and adaptations of creatures from around the world by getting up close to cool critters during keeper talks, dive shows and special programs. Add a Backstage Pass tour to get even closer to toothy sharks or the freshwater megafish.
12-day RiverRocks Adventure Sports Games/Oct. 2-13, times & venues vary: Enjoy a unique & distinctive outdoor event celebrating our incomparable natural resources with dozens of competitive, novice and entertainment events. RiverRocks attracts the best athletes in their fields from as far as Australia & England to compete. NEW FORMAT THIS YEAR!
3 Sisters Music Festival/Oct. 4 & 5, 6-11pm: Enjoy an evening of great bluegrass music on the revitalized riverfront. From traditional to contemporary bluegrass, past performers have been national acts like Ricky Skaggs, Rhonda Vincent, Del McCoury and Dan Tyminski.
150th Civil War Sesquicentennial Signature Event "Occupation and Liberation" Symposium/Oct. 9-12, 9am-5pm: This Signature Event will include special tours, educational symposiums, living history demonstrations, book signings, special guests, live entertainment and a Sesquicentennial Civil War exhibit offering rare and unique artifacts from the Battles for Chattanooga.
Chattanooga Zoo's Banana Split & Banana Ball with Special Guest Jeff Corwin/Oct. 12, 3-4pm & 6:30-11pm: Join Jeff Corwin at the Banana Split presentation just for kids from 3-4 pm. And then adults get to have fun at the Banana Ball that includes access to the zoo, open bar, food, cigar bar, live entertainment, dancing by Bobby and the Aristocrats, and "up close" animal encounters. VIP backstage pass also available to mingle with Corwin.
Boo in the Zoo/Oct. 18, 19, 25, 26, 5:30-8pm: This annual celebration includes some loveable cartoon characters, trick-or-treat stations, costume contests, games, candy, crafts and much more. This non-scary Halloween event is sure to have the whole family talking for years to come.
10th Annual Oktoberfest at the Chattanooga Market/Oct. 20, 11am-5pm: Chattanooga's oldest and largest German celebration, this year brings live German music and foods, a Bier Garten & entertainment for the whole family. The Market will host over 30,000 people for this two day event.
Tennessee Aquarium's AquaScarium VI: Pirates of the Aquarium/Oct. 25, 6:30-9:30pm: Arrgh Mateys! Enjoy family-friendly Halloween party with dueling pirates and costumed SCUBA divers brimming. Come in costume and set out on a trick-or-treat scavenger hunt, boogie with a buccaneer, learn how to talk like a pirate and more.
Creative Discovery Museum's Magic Tree House® American History & Civil War Exhibit/Now-Nov. 3, daily hours vary: Explore American History with Jack and Annie who travel back in time to a way of life only read about in books. Children have the opportunity to take a bumpy ride in a horse-drawn ambulance, play drums in a drummer boy's tent and work as a nurse in a field hospital.
Hunter Museum of American Art's "Whitfield Lovell: Deep River" Exhibit ($)/Now-Oct. 13, daily hours vary: Lovell's exhibit includes thought-provoking images of anonymous African Americans from the 19th to early 20th centuries. He uses portraits, video, audio, charcoal drawings and found objects to explore the legacy of African Americans who fled from slavery in pursuit of freedom.
Lookout Mountain & Outlying Areas

Railfest at the Tennessee Valley Railroad/Sept. 7-8, 10am-10pm: Railfest includes two days of live entertainment, train rides, demonstrations, exhibits, petting zoo, children's activities, lots of food and railroad displays normally not open to the public.
Rock City's Enchanted MAiZE/Sept. 19-Oct. 27, Thurs-Sun, hours vary: Celebrate 12 years of fall family fun at the Enchanted MAiZE. The fun includes a 10-acre corn maze, historic birdhouse barn, tractor-pulled hayrides and children's courtyard playground with face-painting, games, and a Critter Corral.
Ruby Falls Haunted Cavern/Sept. 27&28, Oct.4-31, Nov.1-2, Fri-Sun after dark: Former billionaire Thadeus Krane has spent his fortune and life devising ways to beat death. Now that money is running out he relies on unscrupulous geneticists and NecroEngineers to continue his mission. Reportedly a team of Defex from ruined experiments run the streets harvesting specimens to continue Krane's nightmarish research in the abandoned Krane Toy Factory. This intense event takes place both above and below ground. For ages 12 and older.
Rock City's Blowing Screams Farm/Sept. 28-Oct. 26, Fri & Sat nights beginning at dark: One Year Later, Abandoned. After whistleblowers revealed the true intentions of their research, BSF Global hastily left their laboratories and disavowing all knowledge of the facility. The labs and endless corridors are slowly falling to decay where forgotten test subjects roam the halls feeding on whatever or whoever they encounter.
Rocktoberfest at Rock City Gardens/Oct.5-27, Sat&Sun, Noon-5pm: Rock City is transformed for a celebration of harvests and fall foliage. Share their German heritage with German live music, bratwurst, polish sausage, sauerkraut, specialty beer on tap and then work off dinner with dancing on the polka stage.
Lake Winnepesaukah's WinnepeSPOOKah!/Oct. 4-26, Fri & Sat, 6-11pm: At this SPOOKtacular event, enjoy an atmosfear of haunted rides including the Train of No Return, eerie edibles, screaming thrills, magic shows, interactive parades, clowns, jugglers & more. Fireworks show on Oct. 4 at 10pm.
PLAN YOUR VISIT
Many of the accommodations provide special fall, family or romantic packages that save money. http://www.chattanoogafun.com/vacation-packages