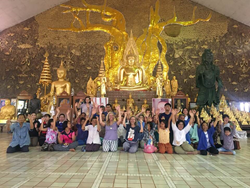 "The power of our presence can be the most powerful medicine there is at the end of life," Suzanne B. O'Brien RN
NEW YORK (PRWEB) April 18, 2019
End of Life Disconnect: "9/10 people say they want to be cared for at home if terminally ill, yet half die in the hospital or some other institution." -NHPCO Gallup Poll 1996
On April 20th the very first "World Training Day " will be held and the Doulagivers Level 1 End of Life Doula Training will be offered in 26 locations, in 5 countries and in 4 languages.
The Doulagivers Level 1 End of Life Doula Training was created by experienced Hospice and Oncology nurse, Suzanne B. O'Brien RN and has been used by thousands of family caregivers and community volunteers around the world with wonderful success. The training teaches people the 3 Phases of End of Life, as well as what they can expect and what they can do to support someone who is in each phase. The International Doulagivers foundation will hold "World Training Day" to help educate people around the world on how to care for their dying loved ones. "100 years ago, the skill of how to care for someone at the end of life was handed down generation to generation. This is something that is lost in our culture today and is contributing to much more suffering when we experience the end of life of someone close to us," said O'Brien.
Live trainings are being offered in the following locations: Seattle Washington, San Francisco California, New Orleans Louisiana, BC Canada, Naples Florida, Hamden Connecticut, New York, NY (Live Online), Pittsburgh Pennsylvania, Pittsfield Massachusetts, Green Bay Wisconsin, Buffalo New York, Bellville Illinois, Southington Connecticut, Colonia New Jersey, Boise Idaho, Sturgeon Bay Wisconsin, Athens Pennsylvania, Danvers Massachusetts, Elgin Illinois, Cedar Rapids Iowa, Ocnomowoc Wisconsin, Murrieta California, University of Manila Philippines, Doulagivers Thailand, and Doulagivers France.
Free tickets for all the events can be obtained by going to http://www.worldtrainingday.org.
Please note: Some locations have a nominal seat reservation fee to help cover the cost of the venue.
"Death is the 2nd leading fear in the U.S., but it is an inevitable part of the life journey. With the right kindness, education and support, death can be the natural, sacred experience it was meant to be." -Suzanne B. O'Brien RN
Source: National Hospice and Palliative Care organization Gallup Poll 1996
ABOUT THE INTERNATIONAL DOULAGIVERS FOUNDATION:
The goal of the International Doulagivers Foundation is to support communities worldwide with Free Level 1 End of Life Doula Community Caregiving Training. The training has been used by people in over eight countries. This is why INDGF has a global outreach program to share this training worldwide with anyone who would like to take it. INDGF knows that education and engagement are the keys to a peaceful passing. World Training Day is a community-driven initiative sparked by the International Doulagivers Foundation, a new nonprofit organization whose purpose is to host a public education program that takes the fear out of end of life
ABOUT SUZANNE B. O'BRIEN RN
Suzanne B. O'Brien RN is the proud Founder and Creator of The International Doulagivers Institute based in New York City. She created the award-winning programs Doulagivers: End of Life Doula Training, Eldercare Doula Training, and Doulagiver Care Consultant Training and has traveled the world donating her education and training programs to help support communities globally. "Awarded Worldwide Leader In Healthcare" by the International Nurses Association for creating Doulagivers, she is also an end of life educator, consultant and author of the #1 International Bestselling book Creating Positive Passings & End of Life Doula Level 1 Caregiver Training (2015) — a guide to learning the invaluable skills of how to care for someone at the end of life.
Suzanne is the Vice President and founding member of the NEDA (The National End of Life Doula Alliance which is a 501c6 Nonprofit Business League for End of Life Doulas), founder and creator of "World Training Day" and Founder of National Death Doula Day.