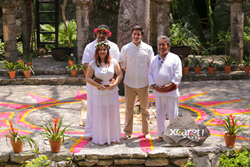 The Castillos said Roark's actions, remind us that there are a lot of good people still out there.
CANCÚN, RIVIERA MAYA, QUINTANA ROO; MÉXICO (PRWEB) April 01, 2015
In 2013, Jessica and Martin Castillo honeymooned in Riviera Maya. Unfortunately, Martin lost his wedding ring on Snuba Reef in Xcaret. Back on the boat, the two realized the ring was missing and spent more than five hours waiting as their scuba instructor searched unsuccessfully.
Some months later, Daniel Roark found the gold band while diving off the coast of Playa del Carmen on the Yucatan Peninsula.
Roark posted a message on Facebook hoping to reunite the ring with its owner. Within weeks the post reached 120,000 shares and the hashtag #thelostweddingband was used more than 200,000 times.
Within three months of his post, Roark received a Facebook message from a woman in Mexico claiming that the wedding ring he had found belonged to her cousin Jessica's husband.
As evidence, Jessica's cousin provided Roark with photos from Martin and Jessica's wedding, including a picture of their identical wedding bands. The wedding bands in the photo matched the one he found while diving off the eastern tip of Mexico!
Roark contacted Jessica via Facebook to return the ring safely to its original owner. The Castillos said Roark's actions "remind us that there are a lot of good people still out there."
Last weekend, Riviera Maya's Tourism Board brought Jessica and Martin back to meet the diver and recover the ring. The couple renewed their wedding vows with a traditional Mayan Ceremony and Roark walked Jessica down the aisle. To celebrate the new blessing, they announced they are expecting a baby!
###
Experiencias Xcaret is a natural park located outside of Cancún, México, with more than 40 attractions available for visitors of all ages. Tourists can explore the natural landscape, enjoy Mexican culture and discover the diversity of animal species inhabiting the area.
Iliana Rodríguez, Subdirección de Comunicación
irodriguez(at)experienciasxcaret(dot)com(dot)mx
Cel: 044 (998) 8 45 56 44