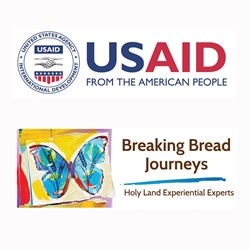 Jerusalem (PRWEB) February 18, 2014
"Breaking Bread Journeys" is a new Palestinian and Israeli experiential tourism concept that will be introduced to the US travel industry and media at the National Tour Association annual conference in Los Angeles and the New York Times Travel Show in New York (Jacob Javits Center, Stand 177) in February. The concept was recently created by two tour operators, Christina Samara, a Palestinian and owner of Samara Tourist and Travel Agency, and Elisa Moed, founder of Israel-based Travelujah. Both women were introduced by Tony Blair's Quartet Initiative and are launching this new tourism concept with the support of the United States Agency for International Development under the Compete Project in the West Bank, which emphasizes economic development, including tourism, as a path to peace and stability.
"We realized that travel brings people together in many positive ways and helps in the pursuit of stability, prosperity and peace in the entire Holy Land," said Christina Samara. "So we designed a set of very special Palestinian and Israeli cultural and historic tours that include many of the classical sites that both of our companies have long been offering."
"However, we believed that what tourists really want is to experience the land in a personal way and we knew that by working together we could provide authentic experiences that would otherwise be virtually impossible," explained Elisa Moed. "Each of our experiences provides opportunities for small groups to engage directly with local communities. These include experiences for faith-based clientele, as well as other market segments that are keen to learn and enjoy local traditional cuisine, art, and music and, of course, break bread with the people of the land."
Tourism to the Holy Land is important for both Israelis and Palestinians. In 2013, the Israeli tourism sector received 3.56 million visitors, and the Palestinian tourism industry is estimated to have received over 1.9 million visitors. In fact, visitors to the Palestinian Territories increased an estimated 40% from 2007 to 2013 – a positive sign that the region can safely receive increasing numbers of visitors.
"We intend to visit Los Angeles 16th–20th and New York 28th of February-2nd March 2014 where we will be meeting tour industry professionals in the United States and look forward to meeting tour operators, media and organizations interested in offering our rich, comprehensive cultural and faith experiences in the Holy Land," said Samara.
Samara Tourist and Travel Agency is being supported in the development of this initiative by the United States Agency for International Development through their COMPETE project in the West Bank as part of the Agency's strategy to develop the Palestinian tourism sector and to make a significant impact in job creation and increased investment.
To view a brief Breaking Bread Journey tour: http://www.youtube.com/watch?v=CY5RbCrMu70.
For more information, contact Christina Samara at +972-54-237-5288 or Elisa Moed at +972-52-744-4033. They can also be reached via email at: christina(at)breakingbreadjourneys(dot)com or elisa(at)breakingbreadjourneys(dot)com is at: http://www.breakingbreadjourneys.com.