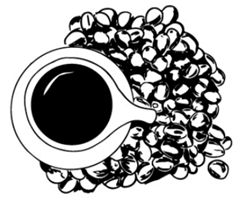 "Exclusive. Exceptional. Experimental: our new Pink Bourbon Cinnamon Coffee earns all these accolades, and more. We invite Columbus coffee aficionados to savor this unique cup and relish the story of how it made its way to Crimson." - Greg Ubert, Crimson Cup Coffee & Tea
COLUMBUS, Ohio (PRWEB) September 09, 2021
A rare coffee micro lot, airlifted from Colombia to Columbus, Ohio, will land Sunday, September 12 at Crimson coffeehouse at 4066 Worth Avenue in Easton Town Center's new fashion district.
"Exclusive. Exceptional. Experimental: our new Pink Bourbon Cinnamon Coffee earns all these accolades, and more," said Greg Ubert, founder and president of award-winning Columbus coffee roaster Crimson Cup Coffee & Tea.
"We invite Columbus coffee aficionados to savor this unique cup and relish the story of how it made its way to Crimson."
The tale begins at 1,480 meters above sea level, in the mountains of Colombia's Quindío Region.
There, Grower Jairo Arcila has transitioned 10 hectares of his Finca Villarazo from avocados to coffee, focusing on the superb Pink Bourbon variety.
A hybrid of Yellow and Red Bourbon, this variety has a high glucose content, resulting in a sweet cup, silky body and luscious mouthfeel. Some farmers report Pink Bourbon resists coffee leaf rust, a fungal disease threatening coffee crops in Central and South America.
"By any standard, this is an exceptional cup," said Sustainability Director Brandon Bir, who first discovered Finca Villarazo through Felipe Arcila of Cofinet. "Like many Cofinet micro lots, it's more suited for a competition than a café."
As fourth-generation coffee growers and exporters, the Arcilas of Cofinet specialize in alternative fermentation processes that create exotic coffee varieties and unique profiles.
After visiting Finca Villarazo in October 2018, Bir met with Felipe Arcila in Armenia and Bogota.
"We developed a friendship that grew over the span of three years, finally resulting in our purchase of this experimental micro lot," he said.
To create the unique coffee, Finca Villarazo workers exposed a micro lot of their best cherries to dry anaerobic fermentation of 72 hours.
During fermentation, they added tartaric acid and cinnamon to enhance the flavor. In the last step, they dried the cherries on raised beds to 10.5 percent moisture content.
"The result is a sweet cup with subtle notes of cinnamon," Bir said. "Rare cups and relationships like these are why we created Crimson.
"Everything starts at origin, where the time we spend with small-plot farmers and communities yields remarkable coffees."
For over a decade, Crimson Cup's coffee team has been trekking into remote mountains to forge relationships with small coffee farmers. In a typical year, they travel over 100,000 miles to source incredible coffee, tea and other ingredients.
Ubert said the company's relationships, quality and awards provide a platform to highlight the hard work of coffee farmers.
"Few consumers understand how hard it is for farmers to grow, process and market the coffee in their cup. By sharing their stories, we invite Crimson customers to join us in kindling growth and prosperity among farming communities.
"Every cup of Crimson coffee you drink contributes to what we call the Ripple Effect: a focus on good that ripples outward through our community to affect the lives of our team, partners and community for years and generations to come."
Pink Bourbon Cinnamon Coffee debuts 8:00 a.m. September 12 at Crimson, 4066 Worth Ave, Columbus, Ohio 43219, in the new fashion district of Easton Town Center.
"We welcome all customers to come in and buy a pour-over to enjoy on site," Ubert said. "If you love coffee, you won't want to miss this unique experience."
He noted that the coffee's $10 cost per cup stems from the risk of experimentation, transportation costs and the many hands that labor to produce this rare cup.
About Crimson Cup Coffee & Tea
Columbus, Ohio, coffee roaster Crimson Cup Coffee & Tea is a 2020 Good Food Award winner, 2019 Golden Bean Champion for Small Franchise/Chain Roaster and Roast magazine's 2016 Macro Roaster of the Year. Since 1991, Crimson Cup has roasted sustainably sourced craft coffee for consumers and wholesale coffee customers.
Through its 7 Steps to Success coffee startup program, the company teaches entrepreneurs to open and run independent coffee shops in their local communities. By developing a coffee shop business plan, entrepreneurs gain insight into how much it costs to open a coffee shop.
Crimson Cup also supports life-enriching projects through its Friend2Farmer® initiatives, promoting the education, health, sustainability and economic growth of small-plot coffee farmers and their communities.
Crimson Cup coffee is available through over 350 independent coffee houses, grocers, college and universities, restaurants and food service operations across 30 states, Guam and Bangladesh. The company also operates several Crimson Cup Coffee Houses and a new Crimson retail flagship store. To learn more, visit crimsoncup.com, or follow the company on Facebook and Instagram.