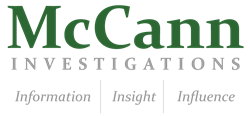 Our computer forensics analysts are honored to serve as expert witnesses whenever they receive the call.
Houston, TX (PRWEB) September 05, 2013
McCann Investigations, a private investigations firm based out of the Houston, TX area, announced that its computer forensics analysts are available to be called as computer forensics expert witnesses in court cases.
The firm offers a range of digital forensics services, including computer forensics. The expertise earned by the firm's skilled investigators in the field has qualified them to be called as expert witnesses on the stand in court cases, offering unique professional insight into many valuable pieces of evidence in computer crime-related cases.
"Our computer forensics analysts are honored to serve as expert witnesses whenever they receive the call," said Daniel Weiss, Managing Partner at McCann Investigations. "The opinions and insight they provide make it much easier for juries and judges to understand the evidence found in computer forensics investigations and the significance that it holds to the case."
Computer forensics investigations typically center on the analysis of devices such as computers, external hard drives, flash drives and servers to extract and preserve evidence. Based on the evidence found in an investigation, the analyst can assist in discovering the perpetrator of computer-based crimes or determining guilt of an accused party.
In court cases, investigators with a thorough computer forensics background are invaluable in helping to clarify evidence in the case. Most jury members, judges and attorneys do not have the same level of technical knowledge of computer forensics that dedicated investigation professionals have.
"We are pleased to assist in any way possible with court cases in the Houston area," said Weiss. "Our investigators are both knowledgeable and articulate, which makes them ideal candidates for the witness stand."
For more information about the services provided by McCann Investigations in the Houston area, visit the company's website at http://www.mccanninvestigations.com and follow the company on Twitter at @mccangi.
About McCann Investigations
McCann Investigations is a Texas-based private investigations practice focused on comprehensive investigations incorporating digital forensics, surveillance, undercover work and background checks for clients in various case types. Service areas include intellectual property theft, non-compete enforcement, fraud, embezzlement and family law. McCann Investigators are experts in the latest computer forensics tools and are licensed with the state of Texas. McCann examiners have provided expert testimony and reporting in hundreds of cases across the state.