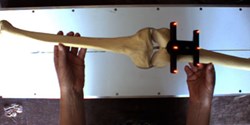 Aligning the knee properly during arthroplasty is challenging and existing systems are very expensive. This prototype is roughly one-hundredth the cost of those systems and determines femoral alignment to a precision of less than half a degree.
Stockton, CA (PRWEB) November 27, 2013
David Schaafsma, PhD, founder of California Optical Engineering, Inc., specializes in multidisciplinary projects primarily for the medical device field, involving optics, electronics, software, and sensors. He has worked in diverse areas such as semiconductor manufacture, telecommunications, and biotechnology.
Dr. Schaafsma has over 25 years of experience in Optical Systems, Microscopy, Fluorescence & Spectroscopy, Optical Materials, Lasers Optics, Optoelectronics, Sensors, and Data Acquisition. Before founding Applied Optical Engineering, Dr. Schaafsma was the director of Sensor Technology at Tetra Tech Data Systems (later Ipitek) and was responsible for all R&D, product development, and commercial activity in fiber optic sensors, and also worked on numerous projects involving fiber communications and embedded systems. At the National Institute of Standards and Technology in Boulder, his research focused on Quantum Optics and Fundamental Metrology of Vertical-Cavity Surface-Emitting Lasers.
Dr. Schaafsma was awarded two patents, a near-field optical microscope with infrared fiber probe and an infrared optical fiber coupler. As an educator, he has taught and lectured to potential clients and corporate officers of multi-billion dollar companies and to students around the nation.
Dr. Schaafsma is one of Experts.com's cadre of world-class expert witnesses and consultants. His engagements relate to optical engineering, intellectual property patent dispute, medical device personal injury, medical device testing, and product performance loss of business issues.
With experience in sales, marketing, business development, operations and management at small businesses and at government laboratories, Dr. Schaafsma has been engaged to speak at conferences, potential clients, and corporate offices of multi-billion dollar companies.
MORE ABOUT DR. DAVID SCHAAFSMA
View Dr. David Schaafsma's Expert Witness Profile
Visit California Optical Engineering, Inc.'s Website: http://www.aplopteng.com
ABOUT EXPERTS.COM - KNOWLEDGE CONNECTED!TM
Since 1994, Experts.com has offered expert witnesses and consultants worldwide an effective platform to promote their services and expertise to legal professionals, the media and business clients worldwide. Experts.com does not broker the engagement between its clients and members and does not mark up its members' fees. Clients may search over 1300 expert witness areas of expertise or have Experts.com's knowledgeable staff complete the search for no added cost.1-866-2-EXPERTS