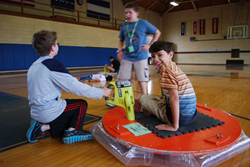 My son loved his three weeks at Explo. He told me at the end of the program that 'it was only three weeks, but I felt like I belonged there'. It was a terrific experience. — Susan Bocamazo
Norton, MA (PRWEB) March 12, 2014
On April 13, 2014, from 2:00 to 4:00 p.m. in the Haas Athletic Center at Wheaton College, Explo will be pulling out all the stops for an afternoon of learning and fun for all children ages 6-12 from all across the greater Boston area. Free and open to the public, the Explo Learning Festival invites children to play games, explore ideas, and tackle challenges they'll (almost) never get the chance to try at home.
"This is a chance for kids to get their hands dirty and have fun with learning," Barbara Trainor, Explo's Director of Curriculum and Instruction, says. "With so many activities and games to choose from, kids are guaranteed to have a blast."
At the festival, kids will ride giant hovercrafts (and learn about the physics that keep them airborne), make crazy designs with pendulum art, and program Lego robots to navigate an obstacle course. Kids will be able to paint pictures with light, play improv games, and debunk magic tricks (with science). They'll also get to put on some "whale blubber" underneath an (inflatable), life-size baby Right Whale — on loan from the National Oceanic and Atmospheric Association — and design stomp rockets to enter into a "Longest Flight" contest. With music, games of wall ball, and refreshments available to all, this will be an afternoon to remember.
"I'm really excited about the The Explo Learning Festival at Wheaton College," Moira Kelly, Explo's Executive Director, says. "We're designing it as a celebration of curiosity. We've got loads of fun hands-on activities planned that we know will get kids excited. Explo is about experiencing the joy of learning and that's what we're aiming for with the Festival."
The Explo Learning Festival is the perfect venue for family fun and experiential learning on a spring Sunday afternoon. For more information, visit http://www.explo.org/festival.