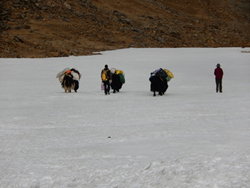 Go healthy and flexible trekking in 2015 and 2016 with Tibet Ctrip Travel Service!
Lhasa, Tibet (PRWEB) May 06, 2015
Tibet trekking has consistently been a popular option amongst adventure minded travelers in recent years; 2015 will be no exception. Those who embark on such a journey can enjoy days of high altitude scenery and interesting cultural experiences. In response to traveler demand, Tibet Ctrip Travel Service-TCTS (http://www.tibetctrip.com) is expanding trekkers' choices with the Tsurphu-Yangpachen Hot Spring Trek, the latest addition to their lineup of trekking tours.
This 4-day trek covers fertile green valleys filled with wild mountain goats and nomadic communities, rolling hills, and a small mountain pass. Only a couple hours from Lhasa, the altitude isn't extreme, making it perfect for trekkers who want to enjoy beautiful landscapes without the challenge of other Tibet trekking tours. Each day consists of only 4-6 hours of trekking, leaving the schedule flexible to trekkers' preferred pace.
The tour will begin in Lhasa where travelers will have time for sightseeing as they acclimatize to the thin mountain air. Must-see places include Potala Palace, Jokhang Temple, Sera Monastery, and Drepung Moanstery. TCTS includes guided visits as a part of the package. Also, be sure to spend some time exploring the crowded streets and alleyways of Barkhor Bazaar. After the trek ends at Yangpachen Monastery where group's driver will be waiting to take them to soak in the hot spring.
Over 9 days of traveling in Tibet, visitors will enjoy an introduction to Tibetan culture and history, spend 4 days trekking amongst unforgettable scenery, and finally soaking their worn out muscles in Yangpachen Hot Spring. On the trek, TCTS will provide trekking equipment like tents and sleeping bags in addition to making sure travelers stay well nourished and hydrated. Availability is filling up quickly, so now is the time to start planning.
Tibet Ctrip Travel Service is a local Tibet tour operator with more than 12 years experience.