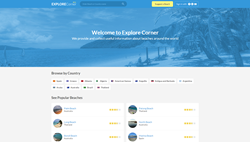 Explore Corner is the new beach travel guide that helps people to locate and to decide for their next beach destination
Belgrade, Serbia (PRWEB) July 27, 2013
Explore Corner is a travel web site that was recently launched by the young and talented team of people. The site provides useful information about beaches around the world. At this point the visitors of this web site can find information about 541 beaches in 12 different countries.
"Having seen the information related to the beaches in general that is currently available on the Internet, Explore Corner imposes itself as a refreshing idea and a travel guide for all the travelers around the globe", said Damnjan Matejic, one of the main developers of Explore Corner.
For now, the visitors can browse beaches by country, popularity or just type in the name of the certain beach they wish to see. The countries that are currently available are Albania, Algeria, American Samoa, Anguilla, Antigua and Barbuda, Argentina, Aruba, Australia, Brazil, Greece, Spain and Thailand.
"Explore Corner offers unique source of information that will help any traveler and assist in finding their next beach destination. Whether we are talking about public overcrowded beaches, the more secluded ones with far less beachgoers or the most popular ones, Explore Corner will direct you at the right place" said Aleksandar Mijailovic, one of the first web site visitors.
When someone enters the web page of certain beach will receive the following information: location (with an interactive Leaflet map also showing the nearby beaches), summary with a detailed general description of the beach, possibility to find nearby accommodation, a list of other nearby beaches, additional photos of beaches, amenities, transport options, activities on the beach, information on maintenance and cleanliness, climate and weather conditions.
"As a person who likes to travel, one of the main factors in choosing my holiday destination has always been the beaches that certain holyday destination that I would like to visit has to offer. I wasn't really satisfied with the information that I found on the Internet and so after the years of thinking and with lots of failed attempts I came with the idea about a web site completely focused on beaches. Explore Corner is something that will be useful for all the sunny and warm weather lovers" said Vladimir Kokovic, the founder and main developer of the Explore Corner.
The visitors will also have a possibility to share and write about their personal experiences, upload photos, recommend beaches for submitting both for countries that are currently available on site and for other countries as well and a lot more.
All the travelers that are interested in suggesting new beaches can visit our suggest page for more information.
About Explore Corner
Explore Corner is the new beach travel guide that collects and offers useful information about beaches around the world and assist the travelers in choosing their next beach as well as choosing their next travel destination in general.
Explore Corner aims to be the leading travel guide when it comes to the beaches providing travelers around the world unique and innovative approach in choosing their next beach destination.