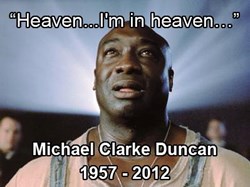 Los Angeles, CA (PRWEB) August 20, 2013
An Explore Talent post honoring Michael Clarke Duncan went viral with over 360,000 likes. Explore Talent often honors current and late actors on its Facebook Platform® page. The social media site put up a photo of the legendary The Green Mile actor, and prompted visitors to hit like if they were fans.
The caption for the photo said "Heaven... I'm in heaven." Also, Explore Talent wrote 1957-2012, the years marking the birth and death of the actor.
Facebook visitors responded in droves, proclaiming their love for Duncan. Over 360,000 people clicked like, and over seven thousand people wrote comments.
Facebook's mission is to give people the power to share and make the world more open and connected. Facebook users communicate and share information through the social graph, the network of connections and relationships between people. With more than 900 million active users, Facebook is the fourth most trafficked website in the United States.
In 2007, the Facebook Platform was launched to empower developers and entrepreneurs around the world to make the Web more social for users. Millions of Facebook users return to the site each day, providing unparalleled distribution potential for applications and the opportunity to build a business that is highly relevant to people's lives.
Explore Talent is a professional site that connects actors, models, singers, movie extras and dancers with jobs in the United States. You can also check out their casting calls by visiting http://www.casting-call.us/. The online community has been responsible for new collaborations and business ventures in entertainment. Explore Talent also helps aspiring entertainment professionals further their careers with contests that showcase their profiles to members of the social media community. For example, by entering a contest, a teen can get his or her photo picked up by a modeling agent. Furthermore, the Explore Talent site features celebrity videos, exclusive interviews with actors, actresses, and musicians, such as Joan Rivers, Usher, Akon and T-Pain.
Anyone can create a profile on Explore Talent where they can upload their photos, videos, songs, etc., to show off their talent in the hopes of landing gigs, such as auditions and casting calls, in entertainment. Explore Talent's proprietary software and vast infrastructure is the most advanced entertainment-based technology of its kind. The site's popularity is based on the fact that there are many ways for talent to network, make friends and connect with other industry players, participate in wide variety of contests and earn prizes for being active on the site. The easy access to a pool of over seven million members attracts industry players who are posting every month about 50,000 new auditions and job openings, such as latest castings for America's Next Top Model, which is 30 times more than any other site.
For more information, visit Explore-Talent.
Facebook® is a registered trademark of Facebook Inc.