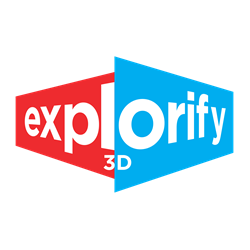 "Explorify3D has to be experienced to be believed and understood. This isn't like you can hand somebody paint brushes and say, 'give me a Picasso,'" Coyne said.
New York City, New York (PRWEB) May 05, 2016
Explorify3D is proud to present a 3D tour of the TriBeCa townhouse located at 75 Warren St in New York City. Captured with state-of-the-art equipment and presented with proprietary methods, the townhouse is being brokered by Ryan Serhant, the Managing Director at NestSeekers International and star of Bravo's 'Million Dollar Listing New York'. The 3D tour can be viewed with either a VR headset or via a web browser.
"It is an honor to be able to provide a service we've worked really hard to develop, to a team that has set themselves apart as the top of their field," Explorify3D Founder Ryan Coyne said. "Rather than having to bring 30, 40 people and having to inconvenience the homeowner all those different times, whether it's an open house or a bunch of showings, realtors have an ability to get some of their life back [with Explorify3D]."
Shot by photographers internally referred to as 'Dimension Masters,' Explorify3D's technology uses a trade secret post-production process to create a walkable, doll-house composite of a building's interior. These interactive models have an ability to show a space to countless potential buyers without the necessary footwork from a broker, saving time and money for both real estate sellers and interested parties.
Explorify3D aims to fix the software quality issues underserving the real estate market by innovating how 3D scanning & virtual reality are used to connect buyers to the right listings. While industry-facing tools such as panoramas or blueprint renders fail to suspend the wall stopping a buyer from understanding if a place is right for them, Explorify3D's visualizations bridge this gap across the uncanny valley.
"We're not doing renders that try to fool somebody. This is something that's based on optical photography, and the reason it feels so comfortable is because your brain can tell it's the real McCoy," said Coyne. "There's no compromise on the brain having to figure out where this room is in relation to that room, or having to piece together from photographs the way the place flows. It speaks so naturally to our understanding of the way the spaces and buildings are laid out that it gives it a voice. We find it as a natural form of architectural expression."
Explorify3D lets you get an idea of a space without having to physically be there. As a virtual attendance and marketing company, Explorify3D has worked with people in a number of different industries, including business offices, commercial and residential real estate, retail locations and even charter schools.
"Explorify3D has to be experienced to be believed and understood. This isn't like you can hand somebody paint brushes and say, 'give me a Picasso,'" Coyne said. "You want something seamless, something you're able to control as you move throughout the space. There's a great amount of prep and thought that goes into doing the entire thing, to make sure it comes out right."
Explorify3D has four package tiers available: Silver, Gold, Platinum and Uranium.
+++ Silver Package includes: Full Interior 3D Scan, Single Property Site, Hosting & Custom URL and 20+ Still JPGs from 3D.
+++ Gold Package includes: Floor Plans w/ SqFt, DSLR Int & Ext Stills, Auto Walkthrough Video and CAD Point Cloud.
+++ Platinum Package includes: Aerial Drone Photography, Reflected Ceiling Plans, AutoCAD 3D Conversion and Web+ Site Upgrade.
+++ Uranium Package includes: Virtual Reality Conversion, Samsung Oculus VR Headset, Unlocked 32GB Galaxy S7 Edge and Premium Branding & Setup.
Each tier comes with the perks and features of the ones before it.
About Explorify3D
Founded in 2014 by a diverse group of tech visionaries, Explorify3D is a virtual attendance & marketing solutions firm led by Ryan Coyne. Explorify3D sets the benchmark for the intersection of location marketing technology, 3D scanning & mapping, virtual reality, drone photography & CAD. By offering individuals, brands & businesses the latest imaging & 3D modeling tools, Explorify3D hopes to increase efficiency, exposure, and profitability in a unified and cohesive manner.
In addition to helping co-found Explorify3D, Coyne runs Infinite Tech, a New York City and Long Island IT solutions consulting company.
About Ryan Serhant
As Executive Vice President and Managing Director of Nest Seekers International, one of the largest real estate brokerage firms in New York City, Ryan Serhant has sold nearly one billion dollars in real estate and was ranked as the #1 Sales Team in New York & #6 Sales Team in the United States by The Wall Street Journal in 2015.
Along with starring in the two-time emmy-nominated hit Bravo TV show 'Million Dollar Listing New York', Ryan Serhant is a frequent contributor to the real estate segments of 20/20, CNN, CNBC, The Today Show, The Insider, Bloomberg TV, and is often quoted in The New York Times, Wall Street Journal, Wall Street Journal China, and Forbes.
Please contact info(at)explorify3D(dot)com for more information. For press & media inquiries, contact press(at)explorify3D(dot)com.