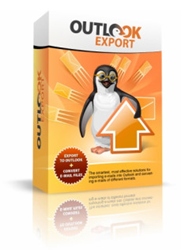 an extremely powerful, reliable and efficient tool for quick and problem-free extraction of objects from Outlook PST files to standalone files on the user's hard drive.
San Diego, CA (PRWEB) March 24, 2014
Outlook Import Software, a renowned supplier of premium data recovery tools for a broad range of mainstream applications, has announced the immediate availability of Outlook Export Wizard, the ultimate tool for fast and convenient extraction of messages and other objects from PST files to files of corresponding formats. http://www.outlookexportwizard.com/
The software is intended for users looking for a way to selectively extract emails and other objects from Microsoft Outlook for further exporting to alternative email applications or archiving. Created for a very wide audience that spans from computer novices to IT professionals, this compact tool features an extremely intuitive and easy-to-follow interface with a bare minimum of control elements and a clear structure of the data export process. http://www.outlookimport.com/description/outlook-export-wizard/
The new version of Outlook Export Wizard features a host of minor improvements, optimizations and bug fixes, and is fully compatible with all latest updates for Outlook. The current version of the program supports a broad range of formats, including EML, MSG, RTF, HTML, VCF (vCard), TXT, MHT, VCS (vCalendar), iCS (iCalendar) and TNEF. http://www.outlookimport.com/faq/
Despite the great number of supported formats, the program saves the user the trouble of picking the necessary one and offers automatic format selection, a function that ensures that each object is saved in the most suitable format. To make the program accessible to as many people as possible, its authors implemented an intuitive multi-step wizard in its UI that helps users get through the few stages of data extraction literally in no time. Outlook Export Wizard supports email filtering by a number of parameters, including the date of creation, size and presence of attachments, and even enables users to save attachments only, skipping messages. The program works with Outlook profiles and standalone PST files and substantially facilitates various typical tasks: publishing of the contents of Outlook messages online as HTML files, editing them in DOC and RTF formats, saving contacts as VCF files, exporting a year's agenda to another application and so forth. Outlook Export Wizard supports PST to EML export from all major versions of Outlook, including Outlook 97, 98, 2000, 2003, 2007 and 2010.
"We are extremely happy to offer the latest update for Outlook Export Wizard, one of our best-selling products and an obvious leader on the market of Outlook data management tools," noted Atie Uhan, Senior Software Engineer at ISV. "We have put a lot of effort into polishing the engine of the program and the performance increase is clearly visible, which, we hope, our clients will duly appreciate."
The demo version of the program that limits the number of objects processed during each export can be downloaded for free from the official ISV website. http://www.outlookimport.com/download/