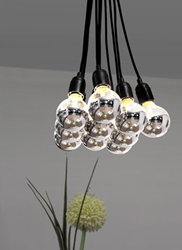 The trend towards using exposed bulb lighting fixtures was originally a very modern one, but as antique replica light bulbs have become more common and more popular, exposed bulb lights have become a staple of an industrial style, too.
(PRWEB) September 23, 2014
HomeThangs.com – the Online Home Improvement Store has made their goal to deliver the right product to the consumer. With that in mind, shopping and home design tips, as well as special product selections are being introduced.
Exposed bulb lighting fixtures are the hottest new thing in home lighting design. HomeThangs.com has introduced a guide to the basics of these minimalist modern fixtures, as well as how they've evolved along with the trend towards reclaimed industrial spaces to create a totally new and unique style.
The most basic exposed bulb lighting fixtures are little more than bulbs on cords, either alone or in clusters, that hang from the ceiling. But these are worlds apart from the bare bulbs typically hung in a garage or basement; the bulbs themselves are specially designed and often tipped or coated with metal to keep the light they produce from being too harsh or glaring, and the cords themselves are decorative, either sleek and solid black or in a rainbow of vibrant colors. The flexible cords make it possible to arrange a cluster of exposed bulb lights in a wide variety of configurations, from spindly chandeliers to billiard style pendants or even basic knots or braids.
Exposed bulb lighting fixtures destined for an industrial style space, on the other hand, tend to be much more involved and elaborate, with antique Edison bulbs, decorative sockets, and rugged, factory style parts, like heavy duty piping, wire cages, rope, or even wood pieces. The goal is less about creating a sleek streamlined fixture and more about creating one that reflects an old fashioned practical functionality with maybe a little touch of whimsy. HomeThangs' new guide looks at a few of the most common configurations, as well as some of the features and materials used to create an antique style with a unique turn of the century flair.
To find out more about both modern and antique style exposed bulb lighting fixtures, check out the full article here.
HomeThangs.com is not only a home improvement superstore, it also provides expert design tips and a comprehensive shopping guide, taking the ideas from professional interior designers, and offering tips to the consumers on how to pick the products to best suit their needs.