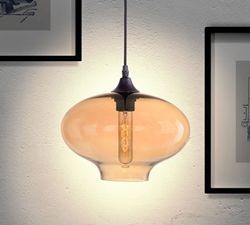 Working with an exposed bulb lighting fixture is a delicate balance between displaying the bulb and ensuring the light it produces isn't too harsh to look at.
(PRWEB) September 24, 2014
HomeThangs.com – the Online Home Improvement Store has made their goal to deliver the right product to the consumer. With that in mind, shopping and home design tips, as well as special product selections are being introduced.
Exposed bulb lighting fixtures are hugely trendy right now, with everyone from homeowners to restaurateurs rushing to incorporate these unique, industrial-inspired lights into their decor. But as stylish as these sleek, minimalist fixtures are, they have the distinct disadvantage of being visually a little glaring. HomeThangs.com has introduced a guide to a few options to tone down this look while still keeping the bulb visible.
One of the first options that HomeThangs.com's new guide explores is simply encasing the bulb of an exposed bulb lighting fixture in a simple wire cage. These can be more or less intricate, and tend to have an industrial, slightly whimsical look and feel. The more intricate the cage, the more of the bulb will be blocked from view, but because the wire is thin, the classic exposed bulb look stays largely intact.
HomeThangs' guide also explores the use of simple glass shades, both clear and tinted. These work especially well with antique inspired Edison bulbs for creating an old fashioned, turn of the century style. The darker the glass, the more the bright filament of the bulb will be obscured, making the fixture easier to look at at a glance.
Metal shades are a third option, and produce a much more rustic style than glass or wire. As with glass shades, the greater the coverage on the bulb, the easier it will be to look at, but unlike glass, all but the barest hint of the decorative bulb is hidden, making this the least traditional alternative to a conventional exposed bulb lighting fixture.
For an in depth look at each of these three options, check out the full article here.
HomeThangs.com is not only a home improvement superstore, it also provides expert design tips and a comprehensive shopping guide, taking the ideas from professional interior designers, and offering tips to the consumers on how to pick the products to best suit their needs.