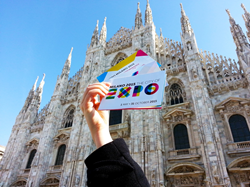 With our 'Expo Made Easy' offer we have combined different services to accommodate many types of travelers and round out the Expo Milan experience
Chicago, IL (PRWEB) April 22, 2015
The countdown to the most awaited event of the year has begun, with less than two weeks to go until the opening ceremony of Expo Milan 2015. The Universal Exposition will be held in Milan from May 1st to October 31st, 2015 and around 20 million visitors are expected to attend. Select Italy (http://selectitaly.com), the online travel company, introduces three different options to experience the Expo, the city of Milan, and its surroundings with exclusive packages.
Feeding the Planet, Energy for Life is the theme of the 184-day event, during which more than 140 countries and three international organizations will be discussing the problems of nutrition and the resources of our planet. The Expo makes Milan a "must-see" for every traveler planning to go to Italy from May to October. Select Italy has designed three great "Expo Made Easy" packages, combining some of our most popular activities and services with the Expo entrance ticket, in order to enhance the Expo experience and fulfill traveler's needs.

Each bundle includes an open date entrance ticket to the Expo, a selected guided tour or a museum ticket, and a train ticket.
"With our Expo Made Easy offer we have combined different services to accommodate many types of travelers and round out the Expo Milan experience," says Beth Rubin, Manager of Custom Travel Planning at Select Italy. "The packages feature some of our most popular services, transportation, and a open date, skip-the-line Expo ticket."
For prices and further details about the Expo packages, visit selectitaly.com or send an email to info(at)selectitaly(dot)com
About Select Italy
Select Italy® is The Ultimate Source for Travel to Italy® and offers a wide array of superior Italian travel products and services, including customized itineraries, state-of-the-art tours and packages, wedding/honeymoon trips, unique culinary classes, a complete pre-departure ticketing service for museums and musical events, private guided services, yacht charters, transportation, hotel reservations, villa bookings and more. Through a vast network of suppliers and cultural contacts, anything and everything you need for optimum travel to Italy is possible with Select Italy. Based in Chicago with an office in New York and Shanghai and support staff in Italy, the company has expanded its offerings and travel services to the Balkans with the launch of Select Croatia®.