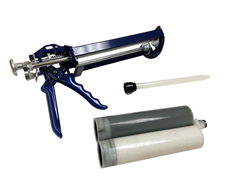 Wake Forest, NC (PRWEB) April 30, 2014
Stop-Painting.com is thrilled to add a time saving, no mess, and safer alternative to the application of epoxy with their new epoxy gun. In contrast to the tedious process of mixing and applying epoxy by hand, the epoxy dispensing gun mixes and dispenses epoxy in one easy step.
Mixing epoxy by hand can be a difficult, exhausting and even health hazardous process. Achieving the correct mix ratio of hardener and resin can be challenging, and uncertainty is often the result. Considering that the durability of the epoxy depends on the accuracy of this mix ratio, applying epoxy by hand can often result in temporary adhesion. Also, when mixing by hand, it is easy to mix much more epoxy than needed for a specific project. Stop-Painting.com's Epoxy Dispenser Gun mixes precise quantities of Parts A and B to insure maximum durability of adhesion and ease of application.
In regards to health hazards, breathing in strong fumes of epoxy can lead to sensitization and "Occupational Asthma", as classified by MayoClinic.com. The symptoms of this condition include chest tightness, wheezing and shortness of breath. Also according to MayoClinic.com, two of the occupations that are considered "High Risk Occupations" for developing occupational asthma are Adhesive Handlers and Users of Plastics and Epoxy Resins. Also, skin contact with epoxy could cause severe irritation or even chemical burns. The epoxy dispenser gun minimizes fumes and any contact of the epoxy with skin, thereby greatly reducing health risks.
Stop-painting.com offers two types of guns, RPS-1003A and RPS-5003. RPS-1003A works similarly to the RPS-5003 by using air-driven principles, but it is smaller, holding 5cc epoxy cartridges. RPS-1003A is designed to handle smaller jobs and quick repairs. They are both made from aluminum, steel and engineering plastics. Possible applications for the Epoxy Dispenser Gun include attaching road studs, delineator posts, park benches, concrete repairs, and more.
Please visit Stop-Painting.com for complete product information or call (919) 769-6765
Stop-Painting.com is a part of InSite Solutions, the manufacturer of Superior Mark tape.
InSite specializes in floor marking solutions that increase safety, organization, and efficiency in the workplace. They offer Superior Mark and a variety of other traffic control solutions for sale on their ecommerce website, http://stop-painting.com.