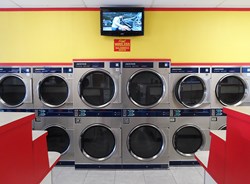 I liked the idea of seeing my customers eyeball to eyeball and actually seeing and handling the money I earned.
Santa Ana, CA (PRWEB) September 09, 2013
Three years ago, following the success of his online ticketing website Tickex, Dan Brinderson launched a new career path and purchased, revamped and opened the first of what would soon become his seven southern California coin operated laundromats, under the name Express Coin Laundry. With locations now in Santa Ana, Anaheim and Los Angeles, Brinderson continues to meet customers' needs and surpass their expectations with amenities like on-site video games, free Wi-Fi, flat screen televisions and energy efficient Dexter Express coin-operated laundry equipment that cleans and dries clothes faster than conventional washers and dryers.
With the growing trend in former internet entrepreneurs pursuing careers in more hands-on businesses, Brinderson is enjoying his successful trail-blazing exploration into the coin-operated laundry business and the support of the community that comes along with it. "I liked the idea of seeing my customers eyeball to eyeball and actually seeing and handling the money I earned," he said.
Brinderson's attention to customers' needs and wants has played a key role in the success of his seven locations. With the help of Steve Erlinger of Western State Design in Hayward, Calif., he has outfitted all of his Express Coin Laundry operations with Dexter Express coin-operated laundry equipment, which not only saves customers time, but also reduces his business's energy consumption. For Brinderson, saving his customers' valuable time and lowering his energy bills and environmental impact was a no-brainer. "If I want to provide a quality service I need to use a quality piece of equipment. Dexter laundry machines have a long history and the fact that the US-based company is owned by the employees and they build equipment with only their name on it, told me they were serious about their business," he said.
Express Coin Laundry customers have enjoyed Brinderson's focus on their experience. With regular gift card and television giveaways at each location, a visit to the laundromat can turn into a happy surprise. They're also happy with the quick turnaround of the Dexter Express washers and dryers which reduce combined wash and dry times to under an hour. The Dexter Express Washer starts the time and energy saving process with a 200 G spin cycle that drains more water from clothes than traditional coin operated washers. When the clothes go into the energy-efficient dryer, they're already minutes ahead in drying time. With the consistency of his Dexter laundry machines, "customers know the laundry will be done the same way in the same amount of time, every time," said Brinderson.
Keeping his coin-operated laundry service filled with customers who return for the quality experience has ensured steady growth for Brinderson's businesses. He plans to revive more laundromats in southern California as Express Coin Laundry continues to make customers happy.
With 40 years experience as a premier, full-service distributor to the coin-op laundry industry, Western State Design has grown to become one of the largest coin laundry equipment distributors in the world. Western State Design is proud to be a Dexter Authorized Distributor, and has been recognized as No. 1 Dexter Distributor Worldwide in 2009, 2010, 2011 and 2012. Dexter Laundry located in Fairfield, Iowa, is an employee owned leading manufacturer of coin-op laundry equipment. All equipment is manufactured in Iowa. Visit WSD online at WesternStateDesign.com or call toll free at 1-800-633-7153.
Express Coin Laundry locations and information can be found at ExpCoinLaundry.com.