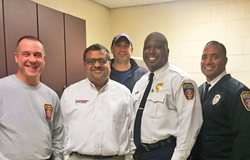 "It was an honor to be able to give back to our local hometown heroes."
Hartford, Connecticut (PRWEB) February 16, 2017
Engine 11 in the City of Hartford has a full-time, live-in Fire Department that services 125,000 residents and responds to an average of 2,700 service calls per year. In a city with aging infrastructure, the fire stations are no exception; the average age of a firehouse in Hartford is 74 years old. The kitchen in the firehouse on Sisson Avenue was way overdue for improvements. The firefighters who live there did not have anywhere to store dishes, cups, or pots and pans. Everything was left out on the countertop and had to be washed before it could be used.
Unfortunately, due to budget constraints, the firefighters were denied capital improvements to the building for the fifth year in a row. Captain Raul Ortiz saw Express Kitchens' truck on the road and, knowing they were based in Hartford, called to see if they could help. Without having to explain, Express Kitchens' Max Kothari immediately donated cabinets and countertops so the firefighters would have a clean, functional and modern kitchen space.
This brand of philanthropy is not new, as Max Kothari has long been a big supporter of the City of Hartford; he has based his corporate headquarters there in an effort to become a source of local job creation. "I was thrilled when Captain Ortiz called, there was no question that we would help," Kothari said, "it was an honor to be able to give back to our local hometown heroes."