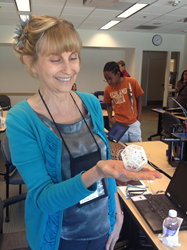 EXSEED is a top tier conference with top tier education for teachers in the science field, and this is desperately needed.
Loma Linda, CA (PRWEB) July 02, 2014
Over 100 educators from around the world attended the 4th annual EXSEED (Excellence in STEM Experiential Learning) conference at Loma Linda University June 23-27. The week-long event provided inspiration and tools to K-12 educators in science, technology, engineering and math (STEM).
Brian Willemse, the health academy coordinator at Indian Springs High School in San Bernardino and a repeat EXSEED participant, admits that connecting with inner city kids in STEM is challenging. EXSEED however has increased his confidence in implementing STEM in the classroom. "All of the techniques I learned at EXSEED directly relate to my classroom," he said, "which is phenomenal." Willemse also teaches chemistry and biology. "EXSEED is a top tier conference with top tier education for teachers in the science field, and this is desperately needed. A local institution of higher education is willing to do this for us—that's something pretty special."
The event kicked off on Monday, June 23, with a keynote presentation by Charles F. McMillan, PhD, nuclear physicist and director, Los Alamos National Laboratory. He challenged his audience to create more STEM graduates, which studies show the nation is lacking.
"The brightest minds in the country work at Los Alamos National Laboratory," he said. "As science and math teachers, you play an incredible role in the future of our country. Every year Los Alamos needs 100 to 200 PhDs. To help meet this need I challenge each of you, during your career, to produce two students who will go on to earn a PhD." McMillan also provided ideas about how to engage parents and students in mastering science and math courses.
Richard Osborn, PhD, vice president, Western Association of Schools and Colleges (WASC), was Monday's second keynote. After sharing the story of his journey as an educator, Osborn highlighted the changing ecology of education including the role of faculty (teaching, research and course design) as well as highlighting innovation and the new settings in which education is taking place. He encouraged attendees to take what they learn back to the classroom and make a difference.
"Each attendee will be stimulated to try at least one new way of teaching STEM next year," Osborn said. "This should be shared with your colleagues because the education of our students is a shared responsibility."
For Theresa Alvarez-Diaz, a technology teacher at Calexico Mission School in Calexico, California, that is exactly how she ended up at EXSEED this year. "This conference changed the way I've been teaching just because of what a co-worker and past attendee has shared with me," she said "The biggest challenge when we leave here is to take what we learn and share it with the other teachers we work with."
Marilyn Eggers, PhD, co-executive director of EXSEED, encouraged participants to get connected with each other. "Learn what inspires one another so together you can start growing ideas."
On Tuesday and Wednesday, participants were immersed in workshops including iPad integration in the mathematics classroom; studying sound and light; physics and medicine; 3-D printing in the classroom; high school robotics and Lego robotics. The sessions provided information and ideas for creative projects that can be implemented in the classroom.
Pamela Forbes, PhD, associate superintendent of the Southern California Conference, boasted of her experience, "STEM is going to help bring our kids and schools into the 21st century by being able to compete with everyone with things like 3D printing and collaborative work."
Research has shown that if children have not developed a firm foundation in math and science as early as the fifth grade, their ability to be successful in these areas in high school and college becomes limited. This will hinder their ability to pursue fields like medicine and dentistry.
EXSEED was envisioned by Richard H. Hart, MD, DrPH, president, LLUH, as a way for LLU and Adventist higher education to partner with K-12 science educators and has evolved to include technology, engineering and math.
"EXSEED is part of our educational strategy to develop both minds and characters that are essential for producing quality health professionals," Hart said. "By working together, we strive to support and empower educators in teaching the STEM disciplines with a mission-focused learning context."
Adventist educators from across the North American Division (U.S. and Canada) and teachers from San Bernardino City Unified School District and Rialto and Redlands Unified School Districts attended EXSEED. Other educators traveled from Jamaica, Curacao and Bonaire to attend the conference.
Eggers along with her co-executive director, LLU provost Ron Carter, PhD, worked to grow the event beyond the original vision. In 2013 Doug Havens, MS, EXSEED director, was hired full-time to help with expanding needs and opportunities. LLU significantly funds EXSEED along with some major grants, making it accessible for educators at every level to participate.
Six Adventist colleges and universities are currently EXSEED partners with Loma Linda University: Andrews University, Kettering College, La Sierra University, Pacific Union College, Union College, and Walla Walla University. More are getting ready to participate and all are invited.