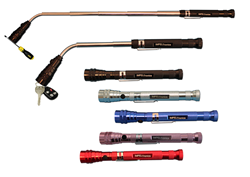 telescopes from 6" to over 21"
Lewisberry, Pa (PRWEB) August 27, 2013
Impeltronics is proud to announce that its Extendable Magnetic Flashlight was featured on NBC's Gadget Friday as a potential Father's Day gift.
The flashlight tool, which telescopes from 6" to over 21" inches long, also includes magnetic ends and offers a rugged aluminum design. With a pocket and belt clip for quick action, the extendable flashlight is handy for camping trips and summer adventures, as well as for gifts.
The suggestion aired on NBC's Bay Area KNTV affiliate, and had technology reporter Scott McGrew explaining to viewers about the flashlight's many features.
"You can find things when you've lost them down in the car," he said, showing the flashlight's ability to extend into tough to reach places.
"I think that's really kinda fun," he said, adding that the magnetic ends are "really strong."
The Extendable Telescoping Magnetic Flashlight was also described by the show's anchors as "innovative" and "smart."
Flashlights from Impeltronics can be used for many different applications, including search and rescue, police usage, hunting, sports and recreational and much more.
For more information about the Extendable Telescoping Magnetic Flashlight from Impeltronics, visit http://www.impeltronics.com.