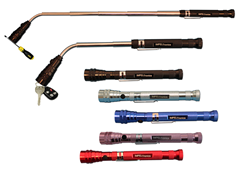 Lewisberry, PA (PRWEB) September 15, 2013
Impeltronics announces a product dealership in Michigan with First Wireless X for its line of Extendable Magnetic Flashlights. Impeltronics, a supplier of Magnetic Flashlights, is proud to announce working with First Wireless X.
Impeltronics continues to seek and engage reputable dealers across the United States for the convenience of the retail markets accessibility to all its product supplies.
Founded in 2005, First Wireless X is a family founded business dedicated to providing the best possible Cell Phone Accessories in the best possible way through retail stores, with a great profit margin for the seller, and great savings and quality for the consumer. We knew it is hard … but we made it!
First Wireless X is an organization of salesmen dedicated to providing superior service at competitive prices and fulfillment of customers' needs. The customer's success is our success.
For more information on the Magnetic Flashlight Product Line, visit http://www.impeltronics.com
Media Contact
Michael Pastal
717-440-1680
mpastal(at)impeltronics(dot)com