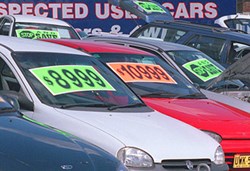 The database that we're offering requires only vehicle basics when a consumer is seeking a price quote to allow simple comparisons of provider pricing online
Miami, Florida (PRWEB) September 28, 2013
Consumers who purchase a used vehicle could be disappointed by the lack of repair coverage offered by dealerships or third party sellers. The Auto Pros company has posted its list of extended auto warranty plans for used cars online at http://www.autoprosusa.com/auto-warranty company. This list is provided in database form to connect auto owners with instant warranty pricing.
These listed warranty plans are currently offered to automobile owners seeking an extension of coverage. According to industry research, the average used car warranty offered through a dealership expires after the 90-day purchase period. These warranties can be limited in the amount of repair coverage provided when a component fails or malfunctions.
The Auto Pros database of providers includes top companies offering more than a standard level of protection.
Many of the companies that are currently providing the pricing details online offer extensions in short or long-term periods. No limitations for mileage, vehicle age or other reductions are packaged inside the provider database online.
"The database that we're offering requires only vehicle basics when a consumer is seeking a price quote to allow simple comparisons of provider pricing online," a source for the Auto Pros USA confirmed. This national warranty database is also accessible from any Internet connected mobile device.
The consumer costs for replacing transmissions, undercarriage components and engines could be one of the most expensive parts of owning a used vehicle. Most used vehicles have over 50,000 miles when these are sold to the public and are not always examined before sale.
The Auto Pros company database of car warranty providers is offering one of the only online solutions for reviewing used car warranty plans without the need to submit personal driving information for a price quote.
"The programmed system now goes through several daily updates to present consumers with data that is immediately usable when comparing companies in any state in the U.S.," the source added.
The used car warranty plans database now searchable from the AutoProsUSA.com website is in combination with the recent launch of the insurance database online. Car owners can also receive quotes for automobile insurance by visiting http://autoprosusa.com/insurance online.
About AutoProsUSA.com
The AutoProsUSA.com company is now a leading resource on the Internet to find automotive information in North America. This company operates a separate parts referral business that has expanded in 2013 due to the connections made with secondary sellers offline. The AutoProsUSA.com company now offers all website visitors simple access to database systems that display pricing, warranty details and other information essential to completing purchases for products or services in the domestic automotive industry online. A toll-free telephone system is now used by company staff to field all calls that are direct for insurance, warranties and used auto parts offline.