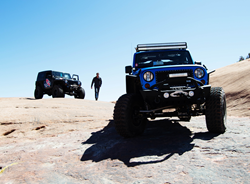 We don't stick to the standard 'vendor trails' – we like to get out and wheel with our customers, have a chance to hang out with them on the trails and learn about what they need for their rigs
Compton, CA (PRWEB) March 27, 2015
As in years before, 4WD is pleased to sponsor this year's Easter Jeep Safari in Moab, UT from March 28 to April 5, hosted by Red Rock 4-Wheelers Inc., and is not only officially supporting four difficult trails through Moab, but will also be putting their own Jeeps and products to the test on them. 4WD will be one of the vendors at the Easter Jeep Vendor Expo April 2-3 as well, featuring the industry's top 4x4 Jeep parts and accessories.
4WD is an official supporter of the Poison Spider/Where Eagles Dare, Golden Spike, 3-D The Pickle Version and Steel Bender trail runs for the 2015 Easter Jeep Safari. Each trail is ranked in difficulty on a scale of 1-10, 1-3 being relatively easy, 4-6 moderate and 7-10 quite difficult and requiring increasing vehicle modification. The lowest rated of the trails sponsored by 4WD, Steel Bender, is ranked a six, while each of the other three runs is a seven.
"This has always been a great experience for us," says Sean Campbell of 4WD, "it's a chance for us to really connect with the Jeep community. We don't stick to the standard 'vendor trails' – we like to get out and wheel with our customers, have a chance to hang out with them on the trails and learn about what they need for their rigs. We're honored to be a sponsor of this event again in 2015!"
4WD Hardware will hit each of its sponsored trails in four different off-roading vehicles: the company's customized 2007 Jeep Wrangler Unlimited, Fat head Racing Team's King of the Hammers buggy driven by Team Co-Driver Mike DeVore, a custom-built Jeep LJ and the 4WD Zombie Slayer Jeep, a rebuilt scrapyard-rescued Jeep TJ. The team will also be accompanied by trucks from prominent exterior accessories manufacturers Truck-lite and Modern Classic Enterprise on Monday and Tuesday. Seven members of the 4WD team will be making the 4,000 mile round trip to Moab for Easter Jeep Safari to ride the trails with their customers and fellow enthusiasts.
After seeing the parts and accessories on sale in action on the trails of Moab, attendees of the vendor expo will have the opportunity to purchase them for their own vehicles. This year's expo will be held at the Spanish Trail Arena south of Moab on Highway 191. 4WD will be displaying its top products for sale with experts on hand to answer questions. Alongside the product display will be the 4WD Ultimate Rugged Wrangler, a custom-built 2015 Jeep JK outfitted with the all-inclusive Rugged Ridge Exploration Package. Expo attendees will have the opportunity to enter for a chance to win the Rugged Wrangler Jeep in October during the 4WD Monster Sale or be one of the lucky monthly parts winners.
About 4Wheel Drive Hardware: 4Wheel Drive Hardware is a top industry provider of Jeep parts and accessories, with a focus and passion for the off-road industry. Whether you're looking for Jeep soft tops, exterior accessories, or Jeep wheels, contact 4WD and connect with other Jeepers worldwide. The toll-free order number is 800-555-3353.