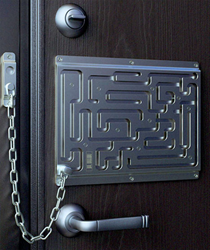 When constructing a home it is important to choose reliable and strong exterior doors to maximize your families safety.
New York, New York (PRWEB) November 22, 2013
Exterior doors are important, and they play a big role in everything from the security of a home, to the value of a home. When choosing exterior doors, the right choice can save homeowners as much as 10% off utility bills, and can protect a home's residents from intruders. Aside from having the best home alarm system in place, having durable, quality exterior doors is the next best way to keep a home secure, according to the professionals at AlarmSystemReport.com.
AlarmSystemReport.com is an alarm system review site that provides information about the top home alarm companies, on a regularly updated basis. The company recently released a new FrontPoint Security review. The site, which also provides valuable security tips, created a list of things for homeowners to consider when selecting exterior doors.
1. If a homeowner wants to purchase a cost-effective and very secure door, steel is the premier option. According to a report from Remodeling Magazine, adding steel exterior doors to a home can bring an average return of as much as 85.6% of the cost.
2. For homeowners who live in an environment where there's a lot of exposure to heavy rain or salt air, a steel door probably isn't the best option. Instead, residents in these type of environments should opt for fiberglass or wood.
3. The most low-maintenance type of exterior door is fiberglass, and fiberglass doors are ideal for any type of climate because they don't expand or contract in response to weather.
4. For homeowners seeking a high-end exterior door option, wood is probably the best choice, and it's the most expensive type of exterior door, when compared to steel and fiberglass, and wood doors can be hand-crafted and customized. Wood is a relatively high-maintenance exterior door option, so it's not ideal for someone seeking a low-maintenance exterior door.
5. For people seeking an energy-efficient door, the best way to determine efficiency is to seek out exterior doors with Energy Star labels. Efficiency doesn't depend solely on what the door is made of—it's also dependent on the framework, whether it has windows, and a number of other factors.
6. For the most versatility in design, it's often best to opt for a fiberglass door. Fiberglass can be painted to match a home's exterior, and finishes can be customized to mimic other materials, including wood.
About AlarmSystemReport.com
AlarmSystemReport.com is the leading source of information pertaining to not only alarm system companies, but also home security tips. The site has reviews of top security systems throughout the country, so whether a site visitor is seeking reviews of Kentucky security systems all the way to North Dakota security systems, the information is included on the site in user-friendly, convenient format.