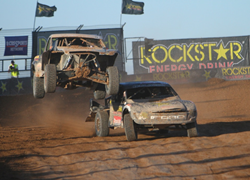 Team 4 Wheel Parts is ready to hit the dirt and looking to challenge for race wins at LOORRS this season.
Compton, CA (PRWEB) March 19, 2014
Greg Adler, president and CEO of 4 Wheel Parts, will race in the Lucas Oil Off-Road Racing Series season opener March 22-23 at Chandler, Arizona. Driving for Team 4 Wheel Parts, which represents the prominent retailer of off-road truck and Jeep parts, Adler will compete in the Pro 4 and Pro 2 divisions at Wild Horse Pass Motorsports Park. Trucks, buggies, and UTVs will get muddy at LOORRS this weekend on the mile long dirt track with multiple jumps and thrilling 180⁰ banked turns.
"Team 4 Wheel Parts is ready to hit the dirt and looking to challenge for race wins at LOORRS this season," says Adler. "I've had two Pro 2 wins at this track and it's a homecoming of sorts for me because I was a Sun Devil at Arizona State University."
He marvels at Wild Horse Pass raceway and points out that it's unique among short courses. "The track is challenging and it has a low line and a high line option that makes for great head to head competition." Adler will run aggressive Pro Comp Xtreme MT2 tires, specially designed to dig into the dirt track and hook.
The Lucas Oil Off-Road Racing Series (LOORRS) is a short course race series launched in 2009 by head of Lucas Oil, Forrest Lucas. LOORRS events are favorites of 4x4 enthusiasts and sport a family atmosphere with events in different classes. 4 Wheel Parts is among the sponsors this weekend in Arizona and onsite vendors will be selling aftermarket parts and accessories.
Team 4 Wheel Parts is led by company CEO & president Greg Adler and team members include employees, customers and fellow racers like Brian Deegan and Robby Gordon. Among the causes Team 4 Wheel Parts champions are The King of the Hammers race, the effort to Save the Hammers, and Truck & Jeep Fests. Additionally, the team sponsors Off-Road Adventures, a monthly online magazine with content featuring Tech Tips, Buyer's Guides, Product Reviews, and videos.
About 4 Wheel Parts: 4 Wheel Parts is a retailer specializing in aftermarket parts for off-road and 4x4 enthusiasts. With 64 locations in North America, 4 Wheel Parts installs all the products it sells while also operating a robust mail-order and e-commerce distribution network to serve customers around the country and around the world. 4 Wheel Parts carries North America's largest inventory of truck and Jeep parts including exterior accessories, suspension systems, catalytic converters and more. The toll-free order number is 877-474-4821.