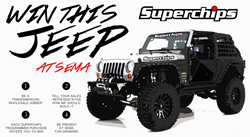 Jobbers have the opportunity to build their ultimate Jeep.
Compton, CA (PRWEB) April 02, 2014
TAP Wholesale, partnered with Superchips, is holding a giveaway for a 2014 Jeep Wrangler with fully personalized exterior accessories to one of nine chosen TAP Wholesale Jobbers at the 2014 Superchips SEMA show in Las Vegas, Nevada on Nov. 6.
Every time a TAP Wholesale Jobber purchases a Superchips product, they are entered into that month's SEMA show giveaway drawing. The drawings happen the first week of every month since March. The resulting nine finalists will all need to be present at the SEMA show for their chance to choose the winning key to start their new Jeep.
To ensure their future Jeep has the best of the best parts and accessories, Jobbers can go online to tawallaccess.com and vote for which parts are going to transform this Wrangler from stock to spectacular.
"Jobbers have the opportunity to build their ultimate Jeep," says TAP Wholesale Marketing Manager AJ Grasso.
The Jobber survey to personalize the Jeep changes each month, guaranteeing the 2014 SEMA show Jeep Giveaway winner will be getting an entirely personalized machine.
About Transamerican Auto Parts: Transamerican Auto Parts is a prominent manufacturer, wholesaler, and retailer of aftermarket parts and accessories for four-wheel drive vehicles including light trucks, Jeeps, and SUVs. Through its 4 Wheel Parts stores with 63 retail locations in North America, Transamerican offers truck and Jeep parts, lift kits, running boards, and more.