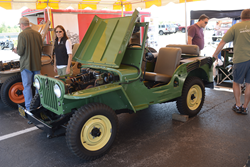 They made vehicles that were used for street cleaning, road striping, fire trucks and even paddy wagons for police departments.
Compton, CA (PRWEB) May 15, 2014
May 16-18, the 22nd Annual Spring Midwest Willys Jeep Reunion & Swap Meet will be held at the Clarion Inn and Conference Center in Hudson, Ohio. This year, the focus of the reunion is Public Service Jeeps, which, at one time, were used for everything from fire protection to civilian defense. There will be plenty of vendors in attendance for the swap meet, such as 4WD.
The reunion will feature 70-80 classic Jeeps from 1941 to the present day. The emphasis of the event will be on Willys Jeeps from 1945-1965.
The conference center where the event is being held is located at 6625 Dean Memorial Pkwy. Willys Jeep enthusiasts from all over the globe will gather to celebrate and share stories and knowledge about "this near-orphan car, in danger of falling into extinction," says Paul Barry, guest speaker and owner of Willys America.
Public Service Jeeps drew upon the Jeep's ruggedness as a military vehicle to fill nearly any community need. For instance, Jeep's DJ-5s were popular amongst the U.S. Postal service from 1967-1984. There were also Jeep ambulances, baggage conveyor Jeeps for loading luggage onto airplanes and Jeep fire engines. The list continues into even more unexpected uses as the public took advantage of all that these tough vehicles had to offer.
"They made vehicles that were used for street cleaning, road striping, fire trucks and even paddy wagons for police departments," says Willys Jeep Reunion event coordinator Bill Norris. Each of these vehicles featured unique exterior accessories and parts, such as saw attachments. For this reason, the swap meet is especially looked forward to as enthusiasts have the opportunity to obtain the parts they need at great prices.
The Spring Midwest Willys Jeep Reunion will have a banquet Saturday night, where Paul Barry will speak on his extensive knowledge of the Willys Public Service Jeeps. Other speakers include Keith Buckley, a noted Jeep historian and Jeff Petrowich, leader of the Colorado Fall Colors Tour. There will also be a special appearance by the Vermont Jeep Girl, host of Trail Talk & My Reality Jeep Life.
About 4Wheel Drive Hardware: With a focus and passion for the off-road industry, 4Wheel Drive Hardware is one of the top industry providers of Jeep parts and accessories. Whether you're looking for Jeep soft tops, Jeep accessories, or Jeep lift kits, contact 4WD and connect with other Jeepers worldwide. The toll-free order number is 800-555-3353.