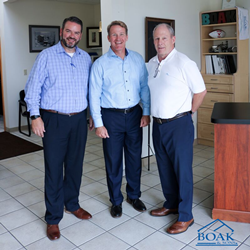 TechCred is a technology-focused program that helps enhance skills needed for technology jobs in Ohio. LT Governor Jon Husted met with Boak & Sons to discuss how TechCred could apply to exterior contractors.
YOUNGSTOWN, Ohio (PRWEB) October 07, 2019
Boak & Sons was honored to host Ohio Lieutenant Governor, Jon Husted, for a tour of the Boak & Sons' offices and warehouse on October 1, 2019. His stop at the Youngstown exterior contractor's location was one of many in northeast Ohio; his goal was to meet with business owners and schools to discuss Ohio's new TechCred program.
TechCred is a technology-focused program that helps enhance skills needed for technology jobs in Ohio. It allows those who are entering the workforce to get the tech training they need to be eligible for the many open technology positions in the state. The program also offers necessary training for current employees to take the next step in their career, and employers to foster the skills their employees already have. Employers can be eligible for up to $2,000 per credential reimbursement when they submit a successful application. Some of the approved credentials include Healthcare Technology, Information Technology, Military Applications and many more.
Sam Boak, founder and president of Boak & Sons, emphasizes the impact of well-trained employees to a successful business, especially in the roofing industry. "Our employees are the backbone of Boak & Sons. Fostering the proper training gives people in this industry a competitive edge over other potential employees, and gives Boak & Sons the same edge over other exterior contractors," says Boak.
Boak & Sons' Vice President of Operations, Chris White and Chief Financial Officer, Patrick Finn welcomed Lt. Governor Husted and gave him a tour of the facility on October 1st. During his visit, Lt. Governor Husted shared his insight on how he thinks TechCred could benefit the roofing industry.
"The value of our elected officials taking note of the Mahoning Valley reflects the positive impact Boak & Sons has on this community. It's an honor to have their attention and be able to work together to promote how Boak & Sons can provide excellent opportunities to potential employees in Ohio," says White.
If you have any questions about Boak & Sons or potential employment opportunities, please contact Chris White at (330) 793-5646 or cwhite@boakandsons.com. To learn more about Sam Boak and Boak & Sons, visit https://boakandsons.com/features/sam-boak/. For more information about TechCred, please visit techcred.ohio.gov.
About Boak & Sons:
Boak & Sons, Inc. was founded by Sam Boak in 1974 as an insulation contractor. With the high energy costs of the 70's, Boak & Sons expanded early on into the roofing business. They offered economical roof installations through cutting edge technology and equipment, allowing customers to recoup even more in energy savings. Today, Boak & Sons is a residential and commercial contractor for roofing, insulation, sheet metal, windows, siding, and gutters. Based in Youngstown, Ohio, the company serves customers in surrounding areas from Cleveland to Pittsburgh. For more information on Boak & Sons, visit their website at: https://boakandsons.com/.